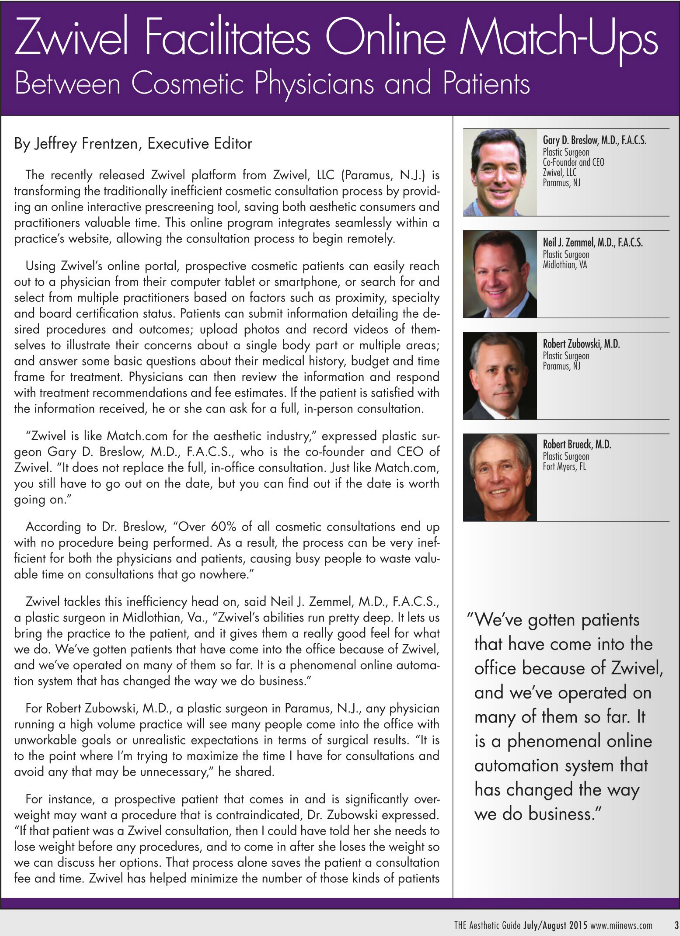 Recently, Dr. Neil Zemmel – our board-certified plastic surgeon – was interviewed by "THE Aesthetic Guide" in regard to an innovative virtual consultation program known as Zwivel. Using this new online portal, patients interested in cosmetic surgery can now contact a prospective plastic surgeon from their computer and/or Internet-compatible mobile device, effectively initiating a pre-screening process that helps determine if the individual would be a good candidate for a particular aesthetic procedure.
Start Your Zwivel Consultation Now
Integrated within a practice's website, Zwivel enables patients to detail their needs and goals; upload photos and videos that exemplify their unique cosmetic concerns; and answer basic inquiries regarding their medical history, budget for surgery, and availability for treatment/recovery. The solicited surgeon can then evaluate the patient's information and respond accordingly. Once both parties are satisfied, a comprehensive in-person consultation can be scheduled.
In the article, Dr. Zemmel is quoted saying, "Zwivel's abilities run pretty deep. It lets us bring the practice to the patient, and it gives them a really good feel for what we do….In addition, I have never before seen such a positive response to a program from both physicians and patients. It introduces efficiency into a process that is traditionally very inefficient."
Ultimately, Dr. Zemmel states that Zwivel is not a substitute for a doctor-patient consultation conducted in person, but it can be an excellent starting point for ensuring the individual has realistic expectations for cosmetic plastic surgery.
To read the full article published in "THE Aesthetic Guide", click here.
Start Your Online Consultation Through Zwivel
If you are interested in plastic surgery of the face, breasts, and/or body, begin your Zwivel online consultation or contact Richmond Aesthetic Surgery today.
Previous Post
Next Post