What Is Pro-Nox?
Pro-Nox is a non-surgical pain relief system that uses a combination of nitrous oxide (laughing gas) and oxygen to help patients feel relaxed during treatment. Unlike anesthesia, Pro-Nox is not designed to make you fall asleep or lose sensation in the target area. Instead, the system creates a sense of euphoria that minimizes discomfort during the treatment process. Pro-Nox can be used for a wide range of skin treatments at Richmond Aesthetic Surgery, from BOTOX® Cosmetic and KYBELLA® injections to laser hair removal and Morpheus8 skin tightening. Since it is completely controlled by the patient, they can choose how much of the Pro-Nox gas they need to feel comfortable and at-ease throughout their appointment.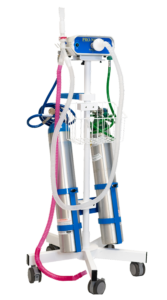 What Does the Pro-Nox Process Involve?
If you choose to utilize our Pro-Nox system during your treatment, you can feel its relaxing effects within a few seconds of inhaling the gas through a disposable mouthpiece. This emits a 50/50 combination of nitrous oxide and oxygen, which you are able to control using a valve on the device. This allows you to customize how much or how little of the gas you would like to experience. Using Pro-Nox may eliminate the need for medications or numbing creams during treatment, but this will be discussed prior to your procedure based on your needs and preference.
What Can I Expect After Using Pro-Nox?
While the recovery from our non-surgical skin treatments will vary based on the procedure, Pro-Nox typically does not require additional downtime. Since its effects wear off quickly, you should feel like yourself before leaving our office and be able to drive yourself home. We have found Pro-Nox improves the overall patient experience, creating a more pleasant treatment experience without the side effects associated with other pain management systems.
Are There Side Effects to Pro-Nox?
A major benefit of using the Pro-Nox Nitrous Oxide System is the fact it has little to no side effects. You can drive yourself to and from your appointment, as the effects of the nitrous oxide wear off after about 10 minutes. During treatment, you can expect to be very relaxed and feel any anxiety fading away. In fact, Pro-Nox often makes patients feel giddy as it is working. You can communicate with our professionals during treatment, allowing you to be involved with your care without feeling much of any discomfort.
How Much Does Pro-Nox Cost?
The cost of adding Pro-Nox to your treatment is approximately $100, or if you are undergoing extensive treatments, it will be included in your treatment cost. This will be discussed with you before your procedure to ensure you know what to expect. If you have any questions, a member of our team would be happy to help you.