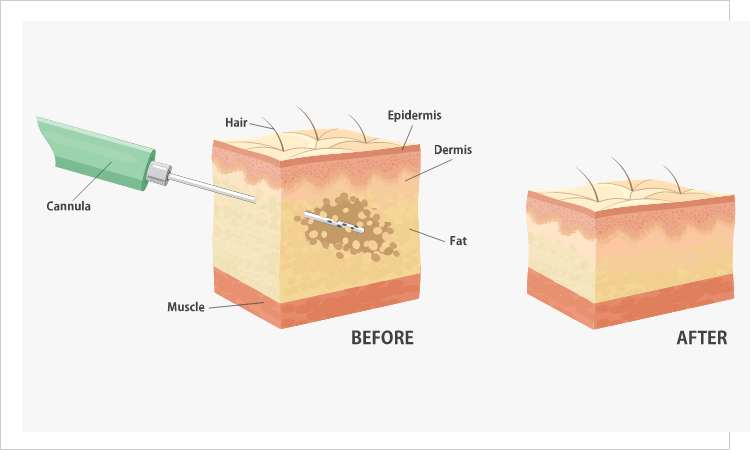 What Is Liposuction?
Liposuction is the surgical procedure that is used to treat isolated pockets of fatty tissue. While liposuction does indeed remove fatty tissue, liposuction should be thought of as a sculpting procedure and not simply as a procedure to remove fatty tissue or a weight loss method. Liposuction requires the use of small incisions placed within the natural creases of the body. Metal cannulas are introduced through these small incisions, and fatty tissue is then removed between the skin and deeper muscle layer.
What Areas Can Liposuction Treat?
Liposuction works best in areas with relatively good skin tone. Ideally the overlying skin has good elasticity with few stretch marks. Once the fatty tissue is removed, liposuction relies on the overlying skin to redrape over the area. Post-operatively you may experience a moderate skin contraction over the area. The areas of the body that respond best to liposuction are:
Upper and lower abdominal wall
Upper and lower flanks ("love handles")
Hips
Inner thighs and inner knees
Outer thighs ("saddlebags")
Chin and neck
Chest and pectoral area (men)
Am I a Candidate for Liposuction?
The best candidates for liposuction are those who are unhappy with stubborn areas of fat and wish to achieve a more toned physique. Patients should be in generally good health and at or near their target weight. It is best if patients have a body mass index (BMI) of 35 or under, as there is a higher risk of complications when at a higher BMI. Candidates should also have good skin elasticity to allow for the stubborn areas of fat to contract and tighten once the excess fat has been removed.
Although men and women who exhibit these qualities are typically considered good candidates for the liposuction procedure, this cannot be determined until a consultation has been made with Dr. Neil Zemmel or Dr. Karishma Reddy to properly assess your health and aesthetic goals.
What Does the Liposuction Procedure Involve?
Liposuction takes approximately 1 to 3 hours depending on the number of areas treated. Liposuction does not require any significant incisions across the trunk or extremities and in general is less invasive when compared to the excisional procedures (full or mini abdominoplasty). The procedure calls for placing a few small 3mm or 4mm incisions across the trunk to allow access for fat removal. Our surgeons place these incisions in hidden areas or in the natural creases of the body. This allows them to heal remarkably well leaving little evidence that the procedure was performed.
Dr. Zemmel and Dr. Reddy use small cannulas to give their patients a high-definition result. Small 2mm and 3mm cannulas also cause very little post-operative bruising and swelling allowing you to recover much quicker. Our surgeons will treat the deeper and more superficial layers of fatty tissue in each area. A significant amount of fat will be removed from each area to give you a natural, sculpted, proportional appearance.
What Can I Expect After Liposuction?
You will be placed in a spandex-like compression garment after surgery. This reduces the amount of post-operative swelling and bruising you may experience. You will wear this garment for approximately 3 weeks after surgery. Any discomfort you experience throughout the recovery is typically well-managed with pain medication.
Most patients require a week to recover, though this will vary based on how many areas were treated and the extent of the fat removal. After this time, patients can typically return to work and resume their daily routines. Strenuous exercise should still be avoided for a few weeks, or until your surgeon advises.
Results can begin to be noticed immediately for some patients, but more in-depth contouring is typically not apparent until a few weeks following the procedure, as swelling continues to subside. To maintain your more toned figure, you should follow a nutritious diet and exercise regularly, as these can prevent weight gain and create long-lasting liposuction results.
How Long Does Liposuction Last?
Your results from liposuction surgery can be enjoyed long-term when following a healthy lifestyle. The fat removed during the procedure cannot regenerate, so it is considered permanently reduced. However, the remaining fat cells can fluctuate in size with weight gain or loss. As a result, our plastic surgeons advise patients to eat a nutritious diet and regularly exercise to maintain a healthy body and stable weight.
What Will My Liposuction Scars Look Like?
Since Dr. Zemmel and Dr. Reddy utilize tiny cannulas to extract the excess fat cells from your treatment area, the incision lines are typically very small. In addition, they make sure to place incisions in natural skin folds or areas easy to conceal under clothing to make them virtually undetectable. Over the course of the first year, your liposuction scars should continue to lighten, flatten, and become softer. While most patients have very faint liposuction scars long-term, if you would like to further diminish their appearance, our surgeons can recommend certain scar treatments and removal techniques to improve your skin.
What Are the Risks of Liposuction?
As with any surgery, liposuction carries some degree of risk. In addition to mild to moderate swelling and bruising, some patients may experience soreness, numbness, and itchiness in the target areas, but these should be temporary and quickly subside. Less common side effects include uneven skin texture, changes in skin color, and prolonged numbness. Although these risks are possible, your surgeon will take every precaution to lower your risk of any complications and ensure you receive the safest procedure possible, helping you achieve your goal outcome.
How Much Does Liposuction Cost?
Liposuction typically costs between $6,000 to $10,000 at Richmond Aesthetic Surgery. Keep in mind that your total cost can greatly vary from other patients', as the surgery is tailored to your unique needs. The size of your target area and the number of areas being treated will both influence the price of your liposuction surgery.
After you and your surgeon have found the best treatment plan for your aesthetic goals, our team will provide you with a cost estimate to help you understand what to expect with your liposuction cost. If you are looking to make your procedure fit more comfortably within your budget, we can discuss financing options to divide your total cost into smaller, monthly payments.
Contact Richmond Aesthetic Surgery
If you would like more information on liposuction procedures, or if you would like to talk more about your options in a confidential consultation with our plastic surgeon, please contact Richmond Aesthetic Surgery.
Dr. Zemmel and his staff are awesome! I had liposuction of the abdomen and flanks and a breast reduction. I am so pleased with the results. I feel better and look better. I am only in to my 7th week of healing and I have already dropped 2 sizes in my clothes. What a feeling!!! I would strongly recommend Dr. Zemmel to anyone wanting to have 'body work' done. He is awesome.. The whole staff here is wonderful. They make you feel welcome and they truly care. I am looking forward to my new look.

Reece H

September 20, 2013

12345