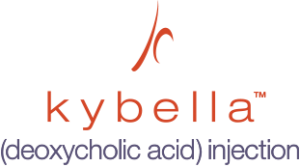 When fat begins to accumulate under the chin and at the top of the neck, the definition of the jawline and overall facial harmony can become compromised. The buildup of submental fullness (the medical term for this excess fat) causes what is often referred to as a "double chin," and can be detrimental to a patient's self-esteem. To eliminate this excess fat, plastic surgeons have used surgical methods such as liposuction to contour the chin and upper neck for a slimmer appearance. Now, with the injectable KYBELLA®, our plastic surgeons at Richmond Aesthetic Surgery can offer you a non-surgical alternative to effectively combat submental fullness and improve the definition of your chin and jawline.
The Benefits of KYBELLA®
KYBELLA® is a unique injectable treatment, targeting the excess fat that causes the appearance of a double chin. This innovative treatment is FDA approved and utilizes deoxycholic acid – a material that naturally occurs in the body – to breakdown this unwanted fat. The benefits of KYBELLA® can include:
Reduced fat under the chin and along the upper neck
Non-surgical option for fat reduction
Fast, effective in-office procedure
More defined, contoured chin and jawline
Results that are considered permanent
Boost in self-confidence
During the consultation process, you will have a physical exam and discuss your expectations with your doctor. KYBELLA® is designed to address excess fat and is not intended to address excess or loose skin. Patients who have lax skin under the chin or along the upper part of the neck may benefit from an alternative cosmetic procedure. Your doctor will help you decide if KYBELLA® can best meet your individual needs.
The KYBELLA® Procedure
Before your KYBELLA® treatment, the target area can be prepped with a numbing agent to improve your comfort. The entire treatment can be completed in our office within 20 minutes, and most patients return to their normal activities immediately afterward. As the deoxycholic acid works to break down the targeted fat, this fat is gradually removed by the body's natural metabolic process.
Some patients will experience mild swelling, bruising, or numbness for a few days following the procedure, though these side effects should quickly disappear. For optimal results, some patients opt for a series of two to four KYBELLA® treatments.
Contact Richmond Aesthetic Surgery
If you would like more information on the benefits of KYBELLA®, or if you would like to schedule a consultation here at our practice, please contact Richmond Aesthetic Surgery today.