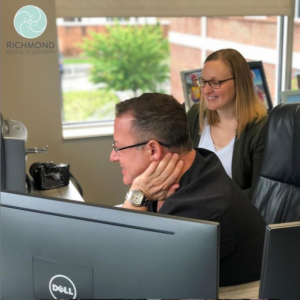 Dr. Neil Zemmel and Dr. Karishma Reddy are proud to offer virtual consultations to give you a preliminary idea of your proposed treatment plan. Patients near and far can use this valuable resource to learn about our practice and whether they are a candidate for the procedures in which they are interested.
The virtual consultation process is as follows
Call our office at (804) 423-2100 to schedule the virtual consultation
We will contact you 15 minutes prior to the appointment time to make sure you are set up on Skype or FaceTime.
Once you have completed your virtual consultation, you may then schedule your surgery. Our team at Richmond Aesthetic Surgery will see you in person before your procedure for an in-person consultation and pre-operative visit.
Contact Richmond Aesthetic Surgery
For more information about our virtual consultation, or to learn more about our plastic surgery concierge services for out-of-town patients, please contact Richmond Aesthetic Surgery today.