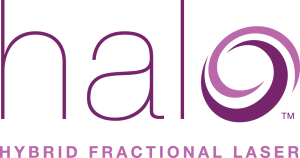 Halo™ is the first hybrid fractional laser in the world. The technology can be customized to treat a wide range of skin concerns—from wrinkles and large pores to sun damage and irregular pigmentation. Hybrid fractional laser resurfacing with the Halo device offers comprehensive skin improvement with minimal downtime, helping patients achieve healthier, younger-looking skin.
How Does the Halo Hybrid Fractional Laser Work?
The Halo hybrid fractional laser is unique in that it delivers dual wavelengths (ablative and non-ablative), sending energy to both the superficial and deep layers of skin. This allows our medical spa team to precisely adjust  each treatment to address the specific needs of the patient. Halo laser treatment can effectively improve cosmetic concerns related to the skin's tone and texture, reducing discoloration, fine lines, pore size, and scar appearance. Results from the hybrid fractional resurfacing reveal a beautiful, glowing complexion.
What Are the Benefits of Halo Laser Treatment?
Halo laser technology is designed to provide dramatic improvement in the skin while minimizing recovery time. By treating both the dermis and epidermis, the treatment can reverse years of damage to the skin. Patients who undergo Halo laser treatment can experience the following benefits:
Diminishes signs of aging
Treats sun damage
Improves skin tone
Reduces large pores
Smoothes skin texture
What Does the Halo Hybrid Fractional Laser Treatment Involve?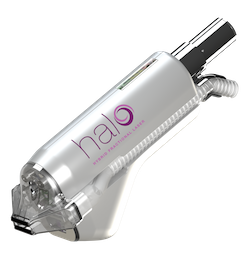 Prior to treatment, a topical anesthetic is typically applied to numb the area. The Halo handpiece is then rolled across the skin, sending dual laser wavelengths to the same microscopic treatment zone. Throughout this process, an integrated cooling feature is activated to help patients remain comfortable. As the lasers target the skin, patients may feel a sensation of heat and occasional prickling, but overall, patients report feeling minimal discomfort.
What Can I Expect in the Halo Laser Treatment Recovery?
Minimal downtime is typically needed after Halo laser treatment. The extent of a patient's recovery will ultimately depend on whether they have undergone a lighter or more aggressive treatment. In general, skin may begin to peel within the first 24 hours; facial treatments typically take three to four days. As this peeling occurs, the healthier, renewed skin underneath is gradually revealed.
While results can begin to be seen at about two to five days, skin continues to improve for months, with the most significant improvement often seen at two to three weeks. Noticeable results are often achieved after only one to two treatments, though follow-up sessions can be scheduled to maximize skin improvement. To preserve the rejuvenation achieved with Halo laser treatment, patients should wear UV sunscreen to minimize sun damage.
How Much Does Halo Laser Treatment Cost?
The price of Halo hybrid fractional laser resurfacing will vary based on the patient's customized treatment plan. Since the process is adjusted to precisely treat each individual's skin concerns, certain factors may affect the total cost. This includes the size of the treatment area, extent of the condition, and whether a single treatment or series of sessions is indicated. Patients can opt to sign up for our financing options, should they wish