The shape, size, curvature, and firmness of the breasts are often very important components to how a woman feels about her appearance. Cosmetic breast surgery procedures from our experienced plastic surgeons at Richmond Aesthetic Surgery can address a number of issues affecting the breasts and help you enhance your appearance with beautiful, natural-looking results. If you would like to add volume and improved proportions to the breasts, breast augmentation may be the right option for you. If you are experiencing excess, inelastic skin in the breasts – giving them a "sagging" appearance – breast lift surgery can restore firmness and youthful vitality. For women who suffer from discomfort and self-consciousness due to the fact that their breasts may be too large for their body frame, a breast reduction can remove excess fat deposits for improved balance and proportions. Breast reduction can also be beneficial for men who are affected by gynecomastia, a common condition causing a buildup of excess fat or tissue in the chest.
In addition, Dr. Neil Zemmel and Dr. Karishma Reddy offer breast reconstruction procedures designed to help women who undergo a mastectomy rebuild the breasts with very natural-looking results. They employ advanced breast enhancement techniques combined with the artistry and skill necessary to help you achieve your goals.
Please follow the links below to find detailed descriptions of our breast surgery procedures. If you would like more information, or if you would like to schedule an in-person consultation here at Richmond Aesthetic Surgery, please contact us today.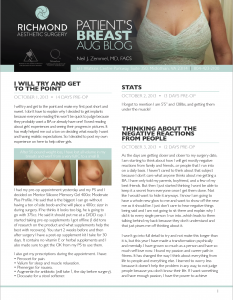 Thinking About Breast Augmentation?
One of Dr. Zemmel's patients documented her breast augmentation from start to finish. While each person's experience will be different, this gives prospective patients a first hand account of the consultation process, selecting an implant, the day of surgery, the immediate post operative period, and long term recovery. She even took photos on a near daily basis!
Thousands of Patient Photos