What Is Female to Male Top Surgery?
Our goal is to help you feel comfortable throughout your transition and listen closely to your aesthetic goals to provide you with the life-changing transformation you desire.
Female to male top surgery, also known as FTM top surgery, is intended to reduce the female breast to create a more masculine chest appearance. Our plastic surgeons, Dr. Neil Zemmel and Dr. Karishma Reddy, are experienced in performing FTM top surgery. Using their extensive training and surgical expertise, our surgeons will work with you to determine the best treatment plan for your unique needs.
At Richmond Aesthetic Surgery, we are proud to help patients as they transition into the gender with which they most identify. Transgender patients can trust that when they seek our surgeons for their sex reassignment, they are receiving the most compassionate, supportive care possible.
What Are the Benefits of FTM Top Surgery?
Undergoing FTM top surgery is a very personal decision, and no one but you can determine whether it is the right choice. If you are considering the procedure and decide to move forward with it, you may experience benefits including:
A more masculine chest that aligns with your gender identity
No longer feeling the need to disguise your natural breast tissue
Boost of self-confidence from your outward appearance
What Does the FTM Top Surgery Procedure Involve?
Our team will educate you on what to expect throughout the process of your female to male (FTM) transgender breast surgery. During your consultation, your surgeon will talk with you in detail about what you hope to achieve through surgery. This along with a review of your medical history and physical needs will allow your surgeon to determine what is necessary to help you obtain your goal results.
FTM top surgery procedures typically entail a breast reduction and often liposuction, as well, for further fat removal. The best technique for each patient – and extent of their procedure – will depend on the amount of breast tissue present. Once the fatty tissue has been removed, excess skin is excised and the area is tightened for a more toned chest appearance. If a large amount of breast tissue is removed, the nipple and areola may need to be relocated to a higher position. More details about your incision options can be found below.
What Are the Different Types of FTM Top Surgery?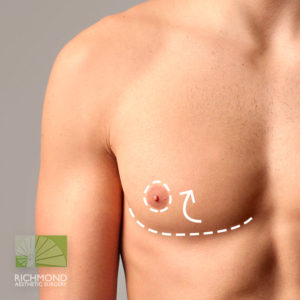 Buttonhole: It involves two incisions made along the inframammary fold (the crease under the breast) and one around the areola. This allows for breast tissue removal, relocation of the areola to a higher position, and excess skin removal. The areola is resized while staying attached by a pedicle, which allows the nerves and blood supply to stay connected and preserve sensation. To reposition the nipple and areola, a circular incision is created at the desired new location. The areola and nipple are then moved underneath the skin and pulled through the new opening where it is sutured into place. Liposuction may also be used to refine the contour of the chest.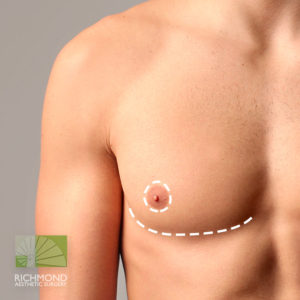 Double Incision: With a double incision technique, a periareolar and inframammary incision is made similar to the buttonhole technique. This again allows breast tissue removal and excess skin removal. With this technique the nipple is completely removed and grafted (free nipple graft) to its new location. Liposuction may be used to contour the chest as well. This technique is typically best for medium to large starting breast sizes.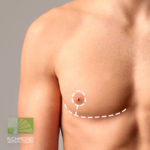 Wise Pattern: The wise pattern technique is similar to a standard breast reduction incision pattern. A periareolar, vertical and inframammary incision are made. This maximizes access to the breast allowing aggressive breast tissue and skin removal. This nipple and areolar may be grafted (free nipple graft) or may be relocated higher on the chest with on a pedicle. Liposuction may be used to contour the chest as well with this technique. This technique may be needed for patients with large breasts.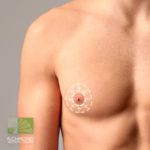 Periareolar: When the periareolar approach is employed, a small incision is made around the border of the areola, and a second, larger circular incision is made, allowing for the skin to be removed. This technique is often best for those with smaller chests and good skin elasticity—it often includes liposuction as well. Once the skin has been removed, a "pursestring" technique is then employed to close the skin and areola. This location typically heals well and is easily concealed since it is on the line between the dark areola skin and the regular skin of the breast.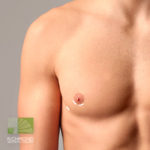 Minimal Scar: Patients with small chests and great skin elasticity are often candidates for the minimal scar technique, which is the least invasive of all techniques. It entails small incisions made on the side of the chest and on a small edge of the areola. Similar to gynecomastia surgery, the minimal scar technique typically uses liposuction to extract fat from the chest for a more masculine appearance with minimal scarring. This technique is used in patients who require minimal breast tissue and skin removal.
What Can I Expect in My Recovery from FTM Top Surgery?
As proud supporters of the LGBTQ community, Dr. Zemmel, Dr. Reddy, and their team are committed to helping transgender patients feel comfortable and confident in their bodies.
Recovery from FTM top surgery will vary based on the individual. A compression garment is often worn to help reduce swelling and improve healing. Drains are removed within the first couple days following your surgery.
Swelling and bruising are normal but should gradually fade as your body heals. Most patients feel comfortable returning to work and their normal routine after about five days. However, strenuous activities should be avoided for several weeks. More specific details of your recovery will be discussed with you during your consultation.
When Will I See My FTM Top Surgery Results?
As your body continues to heal, you can gradually see your new, more masculine breasts taking shape. Due to mild swelling within the weeks following surgery, your breasts may appear fuller than they ultimately will be when fully healed. As a result, it will take some time before you can see what your final outcome will look like. It can take around three months to see your final results.
Like any breast surgery, scarring from FTM top surgery is possible, but our surgeons do their best to minimize scars by placing incisions in easily concealed areas, such as around the areola or in the natural crease underneath the breast. Over time these scars should lighten and fade.

On the 17th I had my chest reconstructed by Dr. Zemmel. I can't praise him enough! My results are exactly what I was looking for and I couldn't be happier! I highly recommend Dr. Z to any and all trans men seeking top surgery!

Ryne Musick

June 30, 2019
How Much Does FTM Top Surgery Cost?
The cost of FTM top surgery typically ranges from $8,000 to $12,000 for the surgeon's fee, anesthesia fees, OR and facility fees, and routine postoperative. This will vary for each patient based on the surgeon's expertise and geographic location of the practice. Our team will provide you with a detailed cost estimate based on the custom surgical plan that is established during the consultation process. If you are interested in financing to help break your total cost into smaller monthly payments, a member of our staff will be happy to help you get started.
Is FTM Top Surgery Covered by Insurance?
FTM top surgery is considered a reconstructive procedure and is covered by some insurance companies. Although more and more providers are offering coverage for gender reassignment surgery, keep in mind that coverage will vary between companies, states, and plans.
What Risks Are Associated with FTM Top Surgery?
As with any surgical procedure, there comes some degree of risk with FTM top surgery. In addition to milder symptoms, including bruising and swelling, some rare complications are possible. These include bleeding, infection, loss of nipple sensation, and breast asymmetry. Should you have any issues, we will do our best to help correct the issue.
Contact Richmond Aesthetic Surgery
As proud supporters of the LGBTQ community, Dr. Zemmel and Dr. Reddy are committed to helping transgender patients feel comfortable and confident in their bodies. By offering procedures like FTM top surgery, they are able to assist patients as they transform into their true gender identities. To learn more about FTM top surgery, please contact us to schedule your consultation and get started.
Thousands of Patient Photos