Motherhood is one of the most rewarding jobs in life, but there's no doubt it can take a toll on the body. With a Mommy Makeover procedure, you can restore your pre-pregnancy body through a combination of different cosmetic enhancement options. Whether you are unhappy with stubborn fat deposits, loose abdominal skin, a deflated breast appearance, premature signs of facial aging, or other aesthetic concerns, a Mommy Makeover from our board-certified plastic surgeon at Richmond Aesthetic Surgery, Dr. Neil J. Zemmel, can help you feel beautiful with natural-looking enhancement results.
What Are the Benefits of a Mommy Makeover?
If you are a mother, you have likely been required to make a number of sacrifices; however, your appearance does not have to be one of them. A Mommy Makeover is a combination of a number of cosmetic enhancement options designed to address the effects that pregnancy and raising children can have on your body. Mommy Makeover procedures can be very beneficial for women who experience:
A sagging or drooping appearance in the breasts due to excess, inelastic skin 
A loss of volume in the breasts 
Excess skin in the abdominal area 
Fat deposits that can appear in a variety of body areas 
Stretch marks along the abdomen 
Wrinkles and fine lines along the face 
Dr. Neil Zemmel will meet with your for an initial consultation to talk about your goals and answer any questions you may have. Together, you and your surgeon will come up with a customized treatment plan with options that can give you a comprehensive Mommy Makeover.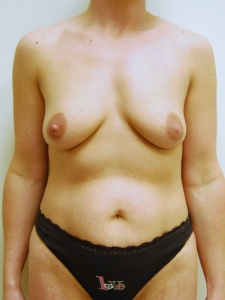 Before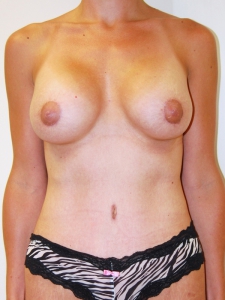 After
What Procedures Can Be Included in a Mommy Makeover?
A Mommy Makeover can include a variety of enhancement options that are performed in either one procedure or over several visits. Popular treatment options include:
Breast Lift
Following pregnancy and breastfeeding, it is normal for the breasts to possess excess skin, causing them to droop or sag. Through breast lift surgery, the breasts can be positioned back to a more youthful location on the chest as excess skin is removed and the remaining tissue is tightened.
Learn more about breast lift. 
Breast Augmentation
If you have lost breast volume following pregnancy, you may benefit from breast augmentation. With the addition of breast implants, our surgeon can restore the lost fullness for an improved contour and size.
Learn more about breast augmentation. 
Tummy Tuck Surgery
Dr. Zemmel performed my breast augmentation and tummy tuck and did a fantastic job! I had 2 kids which left my stomach and breast really hurting. Dr. Zemmel completely rejuvenated my body and I am forever grateful. I would recommend him to anyone!
Throughout pregnancy, the abdominal muscles are stretched and can even be pulled apart, which can lead to poor postpartum skin laxity that cannot be restored through exercise. With the tummy tuck procedure (also known as abdominoplasty), these muscles are rejoined and excess skin is reduced, giving you the flatter, more fit-looking abdominal appearance you desire.
Learn more about tummy tuck surgery. 
Liposuction
While diet and exercise can help you lose much, if not all, of the baby weight, you may find areas of stubborn fat that won't seem to budge. This is common in the arms, legs, abdomen, love handles, and neck. Liposuction can remove these unwanted fat deposits for a more toned figure.
Learn more about liposuction. 
Laser Skin Resurfacing
Laser skin resurfacing can improve a variety of concerns affecting the color and/or texture of your skin. Through this advanced laser technology, you can improve sun damage, brown spots, and other signs of aging for a rejuvenated and overall more refreshed appearance.
Learn more about laser skin resurfacing. 
Cosmetic Injectable Facial Rejuvenation
Cosmetic injectables can rejuvenate your facial appearance by smoothing fine lines and wrinkles, as well as restoring lost volume in the lips and cheeks. Through these cosmetic treatments, you can take years off your appearance without the need for surgery.
Learn more about BOTOX® Cosmetic and dermal fillers. 
My experience was awesome from day one. Dr. Zemmel was very patient and answered all questions in a detailed and understandable way on both of my first appointments. Surgery and recovery both went very smooth. Now 3 months later I am in love with my new self thanks to Dr. Zemmel.

Rene P

February 15, 2017

12345
What Can I Expect During My Mommy Makeover Recovery?
Since Mommy Makeovers often involve a number of different procedures, recovery information will depend on the type of options chosen and how many are performed. The average length of the initial recovery from a Mommy Makeover is about 2 to 6 weeks, though your body will continue to heal over the course of several months. If you are undergoing the tummy tuck procedure, this will most likely determine how long your overall recovery period will be. This is due to the more invasive nature of tummy tuck surgery, which leads to an initial recovery period of about 4 to 6 weeks. If you have small children, you should arrange for help during the beginning of your recovery, as you will need ample time to rest and will not be able to do heavy lifting or other strenuous activities.
Dr. Zemmel will give you precise details regarding what you can expect during recovery once you have decided on your treatment plan. You will be provided with post-operative instructions for wound care, medication usage, and when to return for follow-up appointments. Our goal is to help you understand how to navigate through your recovery so you remain comfortable and minimize the potential risks of complications. If you have questions or concerns at any point during your recovery, please feel free to reach out to our team.
How Much Does a Mommy Makeover Cost?
The average cost of a Mommy Makeover typically ranges from $9,000 to $20,000, due to the comprehensive nature of the surgical plan. The total cost can vary greatly from patient to patient based on the types of procedure being performed, how many operations are needed, and the complexity of the procedures. In addition, the experience of the plastic surgeon and geographic region of the practice can influence the overall Mommy Makeover cost. Other fees related to anesthesia, surgical facility, post-operative garments, and medications will also contribute to how much you can expect to pay.
To help patients fit their Mommy Makeover more comfortably within their budget, they may opt to undergo their procedures in stages. Plastic surgery financing options are also available at Richmond Aesthetic Surgery to help break your total cost into more manageably monthly payments. If you are interested in getting financing for your mommy makeover, our team can help you get started and find the best payment plan for your needs.
Contact Richmond Aesthetic Surgery
For more information on Mommy Makeover procedures, or if you would like to schedule a consultation to talk about your options, please contact Richmond Aesthetic Surgery today.
Thousands of Patient Photos