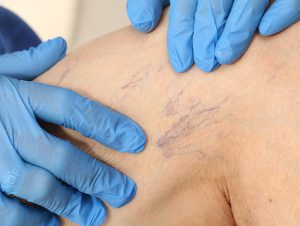 Our experienced plastic surgeon and team of cosmetic enhancement professionals at Richmond Aesthetic Surgery offer some of the latest advances in laser skin rejuvenation to improve a number of common conditions. With laser technology, we can help you completely eliminate spider veins, reduce the appearance of scars, and diminish signs of age spots along the surface of your skin. Our skin care experts can revitalize your appearance with customized treatments designed to help you attain your goals.
Laser Vein Removal
As we get older, it is normal to develop what is known as spider veins, which appear as webs of blue or purple veins on such areas as the legs, cheeks, and nose. These marks can be uncomfortable and noticeable, causing us to feel self-conscious about our appearance. Fortunately, our plastic surgeon and cosmetic enhancement team at Richmond Aesthetic Surgery perform advanced rejuvenation treatments utilizing laser technology to erase spider veins for more youthful- and healthier-looking skin.
Through laser vein removal, we utilize laser energy to treat the problem areas, which ultimately causes the spider veins to vanish. The process takes approximately 15 minutes to an hour to complete, but this will vary depending on the extent of the area(s) needing treatment. An added benefit of laser treatment is no needles or injections are needed to achieve the desired outcome.
Multiple treatment sessions may be necessary to completely eliminate spider veins in the target areas; however, once you have achieved optimal results you may not even remember exactly where the spider veins were in the first place.
Laser Scar Removal
Major advances in cosmetic enhancement have paved the way to effective procedures designed to reduce the appearance of scars on the skin. Laser scar removal can treat mild to moderate scarring that may have been caused by acne, surgery, or trauma. Our state-of-the-art technology offers a non-surgical method of diminishing a problem that can make many people feel self-conscious.
There are a variety of types of scars in terms of size, shape, and appearance. While laser scar removal may not be able to completely diminish signs of scarring, it can often greatly reduce its visibility on the skin. Laser scar removal uses targeted laser energy to removed damaged skin cells and promote the growth of healthier, smoother skin in the treatment area. Results will depend on the size of the scar and other factors; however, most patients experience a reduction in size and color along with a smoother appearance in the treatment area. Laser scar removal typically involves little to no discomfort and there is no need for needles or invasive surgery during this procedure.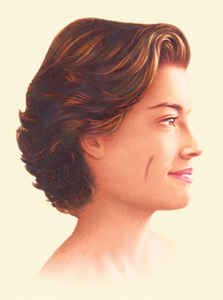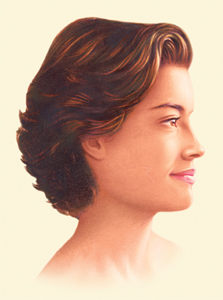 Laser Skin Resurfacing for Age Spot Removal
Age spots are an extremely common skin concern that can occur on any area of the body, though they mostly develop on the face, arms, and hands. They appear as a discolored section of skin and can be significantly improved through laser skin resurfacing. As the laser energy is guided across the targeted spots, the skin achieves a more even, uniform tone.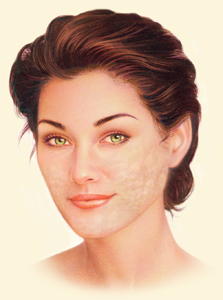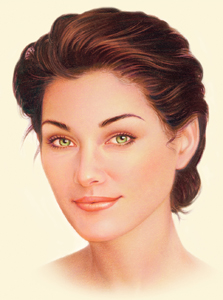 For more information on laser techniques to reduce the appearance of age spots and other skin conditions, please visit our laser skin resurfacing page.
Contact Richmond Aesthetic Surgery
If you would like more information on laser vein removal, laser scar removal, or effective techniques to reduce the appearance of age spots, please contact Richmond Aesthetic Surgery today.