Morpheus8 is an advanced, non-surgical skin tightening treatment. It combines the collagen-stimulating technique of microneedling with the use of radiofrequency (RF energy) to address a variety of aesthetic concerns, including wrinkles, sagging skin, acne, age spots, and more.
Morpheus8 is among the most effective featured at Richmond Aesthetic Surgery's medispa, Dermlounge. Our experienced staff can employ this minimally-invasive procedure to significantly improve the quality of your skin without the hassle of surgery.
What Is Morpheus8?
Morpheus8 is a microneedling treatment, which means it involves a device with several small, sterile needles that lightly penetrate the skin. The needles trigger the skin to heal itself, which in turn allows it to renew collagen and remodel damaged tissue. Morpheus8 is unique in that it also incorporates RF energy, which can reach even deeper into the skin and tissue to create rejuvenating effects even more dramatic than those of traditional microneedling.
A highly versatile procedure, Morpheus8 can tighten skin and reduce the appearance of blemishes in nearly any area of the body. That said, it is most frequently used on the face, neck, décolletage, and chest.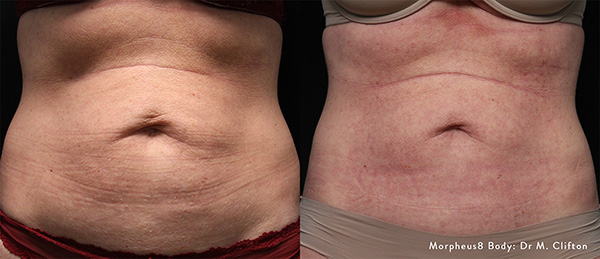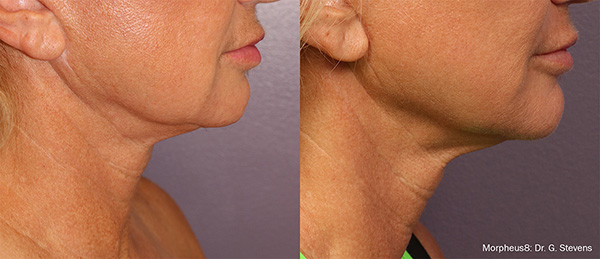 What Are the Benefits of Morpheus8?
A Morpheus8 treatment performed by an experienced provider can produce benefits such as:
Additionally, Morpheus8 holds a major advantage over most
laser skin treatments
in that it is safe for all skin tones.
Improve the contour of hanging fat and skin laxity
Less pronounced appearance of age-related blemishes (e.g. lines, wrinkles, folds, and jowls)
Overall better skin quality
No damage to surrounding tissue
A relatively quick procedure with little to no downtime or discomfort
While Morpheus8 is generally very effective, please note that it was designed to address mild to moderate aesthetic concerns. Patients with more severe amounts of skin laxity or volume loss in the face and neck may be better candidates for a facelift or another one of our surgical options. Alternatively, Morpheus8 can sometimes be performed in combination with surgery for optimal skin enhancement.
What Does the Morpheus8 Treatment Involve?
Depending on the extent of the patient's needs, a Morpheus8 treatment typically lasts between 15 minutes to an hour. To begin, your provider will apply either a local anesthetic or topical numbing cream to the area. The device will then be guided gently across the area, perforating the skin with the needles and heating it with RF energy (the latter of which can be distributed at varying degrees according to your needs). Some patients have reported slight discomfort during the Morpheus8 procedure, but most do not consider it painful.
Furthermore, Morpheus8 warrants little to no recovery time, and most patients are able to resume their normal activities right away. In some cases, patients may opt to come in for multiple treatment sessions.
Are There Any Side Effects to Morpheus8?
Side effects associated with Morpheus8 include swelling, redness, bruising, and itchiness; however, these symptoms should fade in the days following treatment. In the unlikely event that any of the side effects persist for longer than a few days, feel free to contact our office.
How Much Does Morpheus8 Cost?
The cost of your Morpheus8 treatment is contingent upon the treatment area, the number of sessions performed, and other important factors. Our staff would be happy to discuss the cost of your treatment during an initial consultation. In the meantime, feel free to explore our financing options. To facilitate the payment process for our patients, we accept all major credit cards and work with CareCredit®, a trusted lending company that has a program to help eligible patients pay for their care in installments.
Contact Richmond Aesthetic Surgery
For more information about Morpheus8 or our other non-surgical procedures or to schedule a consultation with our plastic surgeon, please contact Richmond Aesthetic Surgery today.