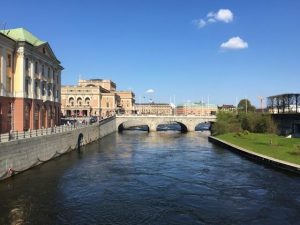 Five plastic surgeons from around the U.S. were selected to participate in an advanced breast surgery preceptorship with Dr. Charles Randquist in Stockholm, Sweden. Dr. Randquist has performed more breast enhancements using anatomic-shaped implants than any other surgeon in the world. He even has his own private 20-bed hospital in a suburb of Stockholm. The purpose of our trip to visit Dr. Randquist was to learn his world-renowned cosmetic breast surgery techniques using the anatomic highly cohesive silicone gel breast implant known as model 410.
These breast implants – also called "gummy bear" implants – hold a number of unique benefits to the patient, including:
Less risk of capsular contracture

Natural teardrop shape

Less rippling

Lower rupture rate
Considering the enhanced quality of the 410 implants, patients can ultimately achieve better outcomes from their procedure.

To further our expertise on the breast implants, we participated in a live surgery with Dr. Randquist and held a number of round table discussions to present and exchange new ideas and difficult patient cases. We discussed how to produce the most aesthetically pleasing outcome by keeping the breast in harmony, proportion, and balance with the rest of the body. We also covered advanced operative techniques to provide our patients with the most gentle surgery, ultimately leading to less bruising, swelling, and much quicker recovery. The trip was extremely productive and will only improve the care we deliver to our patients and our ultimate outcomes.
Previous Post
Next Post