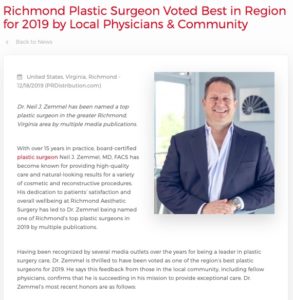 Dr. Neil J. Zemmel has been named a top plastic surgeon in the greater Richmond, Virginia area by multiple media publications.
Richmond, VA — With over 15 years in practice, board-certified plastic surgeon Neil J. Zemmel, MD, FACS has become known for providing high-quality care and natural-looking results for a variety of cosmetic and reconstructive procedures. His dedication to patients' satisfaction and overall wellbeing at Richmond Aesthetic Surgery has led to Dr. Zemmel being named one of Richmond's top plastic surgeons in 2019 by multiple publications.
Having been recognized by several media outlets over the years for being a leader in plastic surgery care, Dr. Zemmel is thrilled to have been voted as one of the region's best plastic surgeons for 2019. He says this feedback from those in the local community, including fellow physicians, confirms that he is succeeding in his mission to provide exceptional care. Dr. Zemmel's most recent honors are as follows:
2019 Top Docs by Richmond Magazine: Dr. Zemmel was chosen by fellow medical professionals in the Richmond area as a Top Doc for both "Plastic/Cosmetic Surgery" and "Plastic/Reconstructive Surgery" categories.
Best of Richmond 2019 by Style Weekly: Having been featured multiple times in this publication's yearly "Best" issue in the past, Dr. Zemmel is proud to have been recognized in this year's category of Best Cosmetic Surgeon, which is chosen by readers in the community.
The Best of Richmond by Richmond Times-Dispatch: This annual award is voted by readers of the local publication. Dr. Zemmel was named in the The Best Cosmetic Surgery Practice category for 2019.
Best of Virginia 2019 by Virginia Living: In its annual issue, this popular magazine highlights favorite businesses throughout the state. Dr. Zemmel was selected as one of the Best of Virginia 2019 recipients through the readers' survey.
Dr. Zemmel performs a comprehensive selection of plastic surgery procedures at his practice, including breast augmentation, mommy makeover, and tummy tuck surgery. He says his top priority is to help patients achieve their aesthetic goals through safe and effective procedures, while ensuring they are informed and comfortable throughout their treatment process.
Dr. Zemmel expresses his gratitude to the many physicians and members of the local community who voted for him in this year's selection of awards. He looks forward to continuing his commitment of helping patients enhance their natural beauty and quality of life through state-of-the-art plastic surgery care.
About Neil J. Zemmel, MD, FACS
Dr. Zemmel is an extensively trained and highly experienced plastic surgeon who is certified by the American Board of Plastic Surgery. He received his Medical Degree from the University of Virginia School of Medicine, after which he trained in a six-year Plastic and Reconstructive Surgery program at the Virginia Commonwealth University Medical Center. He is a member of the American Society for Aesthetic Plastic Surgery, American Society of Plastic Surgeons, and Medical Society of Virginia, as well as a Fellow of the American College of Surgeons. Dr. Zemmel is available for interview upon request.
For more information about Richmond Aesthetic Surgery, visit richmondplasticsurgery.com and facebook.com/RichmondAestheticSurgery.
Contact:
Richmond Aesthetic Surgery
11934 W Broad Street
Suite 200
Richmond, VA 23233
(804) 423-2100
Rosemont Media
(858) 200-0044
www.rosemontmedia.com
Previous Post
Next Post