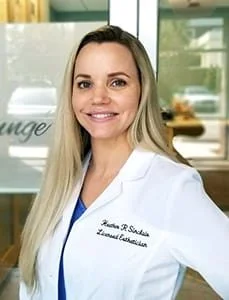 Heather Sinclair, LE is a Licensed Aesthetician at Richmond Aesthetic Surgery. She is highly experienced in a variety of non-surgical cosmetic treatments, including laser procedures, fat reduction, chemical peels, and medical facials. Heather is passionate about helping patients enhance their natural beauty by creating customized treatment plans that can help them achieve their aesthetic goals. She is known for her friendly demeanor, as well as making patients feel comfortable as they undergo the innovative skin care solutions she provides.
Before becoming an aesthetician, Heather served four years as a U.S. Marine, during which time she completed multiple deployments. After being honorably discharged, she discovered her passion for comprehensive skin care. Heather went to American Spirit Institute to receive her Aesthetician License, and continued to the Esthetic Institute to undergo specialty training in laser treatments, earning multiple certifications.
With her background and experience in advanced skin care techniques, Heather is proud to deliver state-of-the-art care to patients of Richmond Aesthetic Surgery. When not caring for patients, Heather enjoys spending time with her family, listening to live music, and being outdoors.
If you would like to learn how you can obtain beautiful, healthy skin, please contact us to schedule your appointment with Heather.