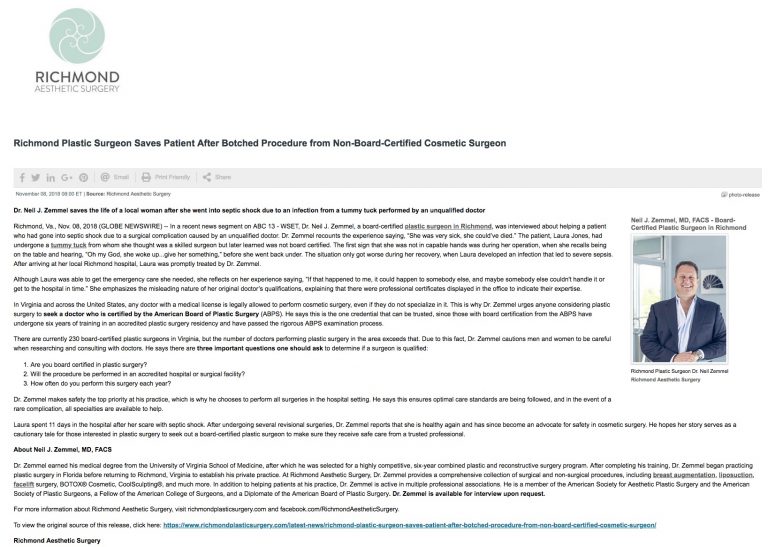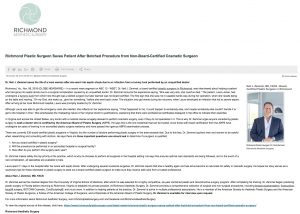 Dr. Neil J. Zemmel saves the life of a local woman after she went into septic shock due to an infection from a tummy tuck performed by an unqualified doctor.
Richmond, VA — In a recent news segment on ABC 13 – WSET, Dr. Neil J. Zemmel, a board-certified plastic surgeon in Richmond, was interviewed about helping a patient who had gone into septic shock due to a surgical complication caused by an unqualified doctor. Dr. Zemmel recounts the experience saying, "She was very sick, she could've died." The patient, Laura Jones, had undergone a tummy tuck from whom she thought was a skilled surgeon but later learned was not board certified. The first sign that she was not in capable hands was during her operation, when she recalls being on the table and hearing, "Oh my God, she woke up…give her something," before she went back under. The situation only got worse during her recovery, when Laura developed an infection that led to severe sepsis. After arriving at her local Richmond hospital, Laura was promptly treated by Dr. Zemmel.
Although Laura was able to get the emergency care she needed, she reflects on her experience saying, "If that happened to me, it could happen to somebody else, and maybe somebody else couldn't handle it or get to the hospital in time." She emphasizes the misleading nature of her original doctor's qualifications, explaining that there were professional certificates displayed in the office to indicate their expertise.
In Virginia and across the United States, any doctor with a medical license is legally allowed to perform cosmetic surgery, even if they do not specialize in it. This is why Dr. Zemmel urges anyone considering plastic surgery to seek a doctor who is certified by the American Board of Plastic Surgery (ABPS). He says this is the one credential that can be trusted, since those with board certification from the ABPS have undergone six years of training in an accredited plastic surgery residency and have passed the rigorous ABPS examination process.
There are currently 230 board-certified plastic surgeons in Virginia, but the number of doctors performing plastic surgery in the area exceeds that. Due to this fact, Dr. Zemmel cautions men and women to be careful when researching and consulting with doctors. He says there are three important questions one should ask to determine if a surgeon is qualified:
Are you board certified in plastic surgery?
Will the procedure be performed in an accredited hospital or surgical facility?
How often do you perform this surgery each year?
Dr. Zemmel makes safety the top priority at his practice, which is why he chooses to perform all surgeries in the hospital setting. He says this ensures optimal care standards are being followed, and in the event of a rare complication, all specialties are available to help.
Laura spent 11 days in the hospital after her scare with septic shock. After undergoing several revisional surgeries, Dr. Zemmel reports that she is healthy again and has since become an advocate for safety in cosmetic surgery. He hopes her story serves as a cautionary tale for those interested in plastic surgery to seek out a board-certified plastic surgeon to make sure they receive safe care from a trusted professional.
About Neil J. Zemmel, MD, FACS
Dr. Zemmel earned his medical degree from the University of Virginia School of Medicine, after which he was selected for a highly competitive, six-year combined plastic and reconstructive surgery program. After completing his training, Dr. Zemmel began practicing plastic surgery in Florida before returning to Richmond, Virginia to establish his private practice. At Richmond Aesthetic Surgery, Dr. Zemmel provides a comprehensive collection of surgical and non-surgical procedures, including breast augmentation, liposuction, facelift surgery, BOTOX® Cosmetic, CoolSculpting®, and much more. In addition to helping patients at his practice, Dr. Zemmel is active in multiple professional associations. He is a member of the American Society for Aesthetic Plastic Surgery and the American Society of Plastic Surgeons, a Fellow of the American College of Surgeons, and a Diplomate of the American Board of Plastic Surgery. Dr. Zemmel is available for interview upon request.
For more information about Richmond Aesthetic Surgery, visit richmondplasticsurgery.com and facebook.com/RichmondAestheticSurgery.
Contact:
Richmond Aesthetic Surgery
11934 W Broad Street
Suite 200
Richmond, VA 23233
(804) 424-2000
Rosemont Media
(858) 200-0044
www.rosemontmedia.com
Previous Post
Next Post