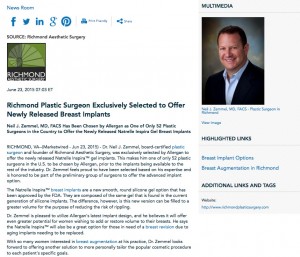 Neil J. Zemmel, MD, FACS has been chosen by Allergan as one of only 52 plastic surgeons in the country to offer the newly released Natrelle Inspira™ gel breast implants.
Richmond, VA – Dr. Neil J. Zemmel, board-certified plastic surgeon and founder of Richmond Aesthetic Surgery, was exclusively selected by Allergan to offer the newly released Natrelle Inspira™ gel implants. This makes him one of only 52 plastic surgeons in the U.S. to be chosen by Allergan, prior to the implants being available to the rest of the industry. Dr. Zemmel feels proud to have been selected based on his expertise and is honored to be part of the preliminary group of surgeons to offer the advanced implant option.
The Natrelle Inspira™ breast implants are a new smooth, round silicone gel option that has been approved by the FDA. They are composed of the same gel that is found in the current generation of silicone implants. The difference, however, is this new version can be filled to a greater volume for the purpose of reducing the risk of rippling.
Dr. Zemmel is pleased to utilize Allergan's latest implant design, and he believes it will offer even greater potential for women wishing to add or restore volume to their breasts. He says the Natrelle Inspira™ will also be a great option for those in need of a breast revision due to aging implants needing to be replaced.
With so many women interested in breast augmentation at his practice, Dr. Zemmel looks forward to offering another solution to more personally tailor the popular cosmetic procedure to each patient's specific goals.
About Neil J. Zemmel, MD, FACS
Dr. Zemmel received his Bachelor of Science at the College of William and Mary, and he continued to the University of Virginia School of Medicine, where he earned his medical degree. He then completed graduate medical training in both an internship and residency in General Surgery at the Medical College of Virginia, Department of Surgery. Dr. Zemmel then attended the Virginia Commonwealth University Medical Center to complete a residency in Plastic and Reconstructive Surgery. To stay up-to-date on the industry's latest trends, he continuously conducts research, makes presentations, and authors publications on a variety of medical topics. Dr. Zemmel is also a member of several professional organizations including the American Society of Plastic Surgeons, the American Burn Association, and the Medical Society of Virginia. He is available for interview upon request.
For more information about Richmond Aesthetic Surgery, visit richmondplasticsurgery.com, richmondbreastimplants.com, vabreastsurgery.com, and plus.google.com/109479035144616950506/about.
Contact:
Richmond Aesthetic Surgery
11934 W Broad Strest, Suite 200
Richmond, VA 23233
(804) 424-2000
Rosemont Media
(858) 200-0044
www.rosemontmedia.com
Previous Post
Next Post