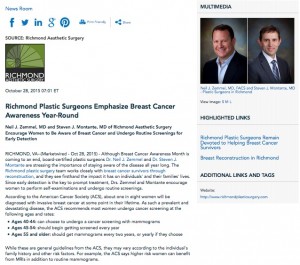 Neil J. Zemmel, MD of Richmond Aesthetic Surgery encourages women to be aware of breast cancer and undergo routine screenings for early detection.
Richmond, VA – Although Breast Cancer Awareness Month is coming to an end, board-certified plastic surgeon Dr. Neil J. Zemmel is stressing the importance of staying aware of the disease all year long. The Richmond plastic surgery team works closely with breast cancer survivors through reconstruction, and they see firsthand the impact it has on individuals' and their families' lives. Since early detection is the key to prompt treatment, Dr. Zemmel encourages women to perform self-examinations and undergo routine screenings.
According to the American Cancer Society (ACS), about one in eight women will be diagnosed with invasive breast cancer at some point in their lifetime. As such a prevalent and devastating disease, the ACS recommends most women undergo cancer screening at the following ages and rates:
Ages 40-44: can choose to undergo a cancer screening with mammograms
Ages 45-54: should begin getting screened every year
Ages 55 and older: should get mammograms every two years, or yearly if they choose
While these are general guidelines from the ACS, they may vary according to the individual's family history and other risk factors. For example, the ACS says higher risk women can benefit from MRIs in addition to routine mammograms.
For those diagnosed with breast cancer, Dr. Zemmel explains it is important for them to be informed of his breast reconstruction options–whether they plan to undergo reconstruction or not. Unfortunately, studies have revealed the majority of those with breast cancer are not referred to a plastic surgeon prior to their cancer-related surgery. Due to this fact, Dr. Zemmel is dedicated to educating women about how reconstruction can restore a natural breast shape and potentially improve their quality of life, should they choose to move forward with it.
From getting routine cancer screenings to learning about their reconstructive options, Dr. Zemmel emphasizes the need for women to be aware of their breast health and seek information regarding their options following a cancer diagnosis.
About Richmond Aesthetic Surgery
At Richmond Aesthetic Surgery, Dr. Zemmel performs a wide range of cosmetic and reconstructive surgical care. Among the many procedures offered, the team dedicates a large portion of the practice to working with breast cancer survivors, helping them restore the breast tissue lost from a mastectomy. When a patient comes to Richmond Aesthetic Surgery in hopes of learning more about their breast reconstruction options, the team of medical professionals strives to provide care with the utmost compassion and respect. Dr. Zemmel is available for interview upon request.
For more information about Richmond Aesthetic Surgery, visit richmondplasticsurgery.com, vabreastsurgery.com, and plus.google.com/109479035144616950506/about.
Contact:
Richmond Aesthetic Surgery
11934 W Broad Strest, Suite 200
Richmond, VA 23233
(804) 424-2000
Rosemont Media
(858) 200-0044
www.rosemontmedia.com
Previous Post
Next Post