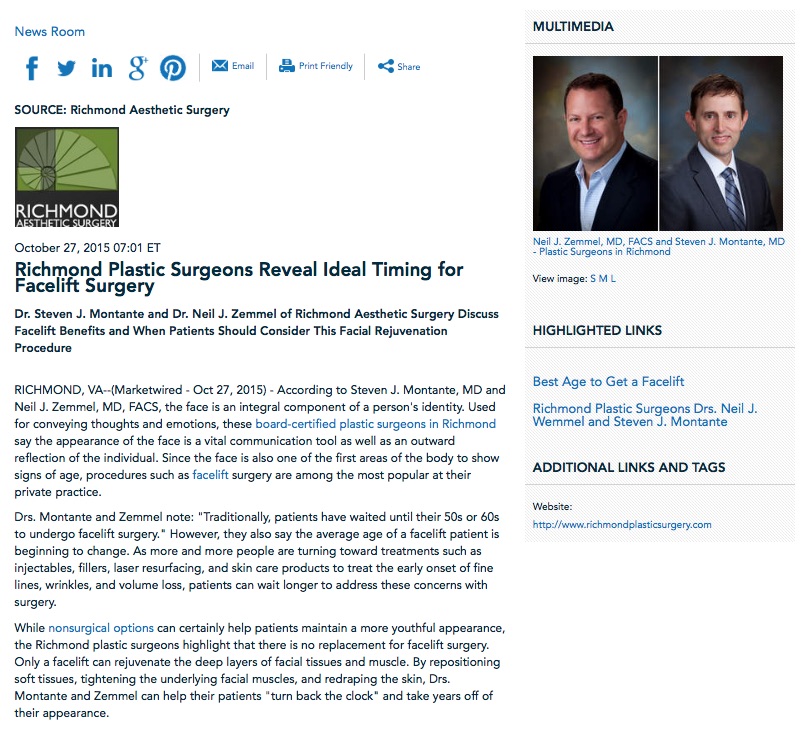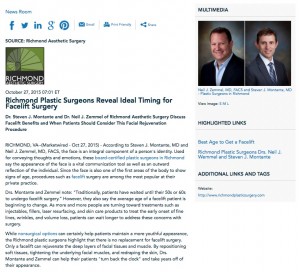 Dr. Neil J. Zemmel of Richmond Aesthetic Surgery discusses facelift benefits and when patients should consider this facial rejuvenation procedure.
Richmond, VA — According to Neil J. Zemmel, MD, FACS, the face is an integral component of a person's identity. Used for conveying thoughts and emotions, this plastic surgeon in Richmond says the appearance of the face is a vital communication tool as well as an outward reflection of the individual. Since the face is also one of the first areas of the body to show signs of age, procedures such as facelift surgery are among the most popular at his private practice.
Dr. Zemmel notes: "Traditionally, patients have waited until their 50s or 60s to undergo facelift surgery." However, he also says the average age of a facelift patient is beginning to change. As more and more people are turning toward treatments such as injectables, fillers, laser resurfacing, and skin care products to treat the early onset of fine lines, wrinkles, and volume loss, patients can wait longer to address these concerns with surgery.
While nonsurgical options can certainly help patients maintain a more youthful appearance, the Richmond plastic surgeon highlights that there is no replacement for facelift surgery. Only a facelift can rejuvenate the deep layers of facial tissues and muscle. By repositioning soft tissues, tightening the underlying facial muscles, and redraping the skin, Dr. Zemmel can help his patients "turn back the clock" and take years off of their appearance.
Ultimately, Dr.Zemmel says the best time to get a facelift will vary from patient to patient. Men and women from their 30s to their 70s and older have achieved successful results with facelift surgery. To determine if a patient is an ideal candidate for facelift surgery, Dr. Zemmel recommends visiting a plastic surgeon for a one-on-one consultation.
About Richmond Aesthetic Surgery
Dr. Neil J. Zemmel operates Richmond Aesthetic Surgery. Dr. Zemmel is board certified by the American Board of Plastic Surgery and performs a wide range of cosmetic and reconstructive procedures for the face, breast, and body. He utilizes state-of-the-art surgical techniques to ensure the safest, most effective procedures, and is committed to staying up-to-date with the latest advancements in technology. Dr. Zemmel is available for interview upon request.
For more information about Richmond Aesthetic Surgery, visit richmondplasticsurgery.com, vabreastsurgery.com, and plus.google.com/109479035144616950506/about.
Contact:
Richmond Aesthetic Surgery
11934 W Broad Strest, Suite 200
Richmond, VA 23233
(804) 424-2000
Rosemont Media
(858) 200-0044
www.rosemontmedia.com
Previous Post
Next Post