Abdominoplasty (Tummy Tuck)
Abdominoplasty Overview
Abdominoplasty at Richmond Aesthetic Surgery is the surgical procedure that removes excess skin and fatty tissue from the front of the abdominal wall.  Additionally, abdominoplasty also tightens the muscle layers of the abdominal wall.  By addressing all three layers of the abdominal wall, abdominoplasty can dramatically improve the appearance and function of the trunk.
Abdominoplasty is particularly helpful to:
Women who have had one or more pregnancies that have stretched their abdominal wall muscles and skin beyond the point where they can return to normal even with diet and exercise.
Men and woman who have undergone massive weight loss, which has resulted in deflation of the skin of the trunk and extremities.  Large areas of excess skin around the trunk, abdomen, thighs, and arms have developed that need addressing.
*Individual Results May Vary
Abdominoplasty Surgery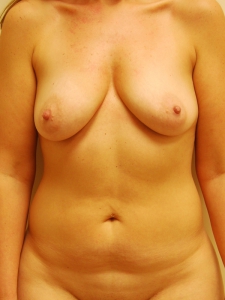 BeforeAfter*
View Gallery
A full abdominoplasty takes approximately two to three hours, depending on the extent of procedure, while a mini-abdominoplasty may take one to two hours. Liposuction can take one to three hours depending on how many sites are treated.
The full abdominoplasty procedure takes approximately 2 to 3 hours. Dr. Neil J. Zemmel makes every effort to place the incision in the most hidden areas possible.  For a full abdominoplasty, Dr. Zemmel will place the incision on your lower abdomen just above the pubic area. This location will likely allow the scar to be hidden under a bikini bottom or under revealing underwear in many patients. The tummy tuck incision will be placed below any prior c-section scar so the c-section scar will be removed.
The skin is then lifted from the upper abdomen to expose the muscles underneath. This will expose the vertical muscles of your abdominal wall called the rectus abdominus muscles. Dr. Zemmel will then tighten your abdominal wall by pulling them close together and stitching them into a new position. This provides a firmer abdominal wall and narrows the waistline.  Dr. Zemmel will then examine the remaining muscles of the abdominal wall and any oblique laxity will also be tightened.
The skin is then pulled down snuggly, and all loose tissue is removed.  Another incision is made around the umbilicus to free it from the surrounding tissue.  The belly button is then brought out through a new opening at its prior position.  Your new belly button will be vertically oriented, rounded, and lie in a slight depression on the front of your abdomen.  Dr. Zemmel will tailor the navel to provide a sexy natural appearing navel in female patients. The new navel can even be pierced.  Dr. Zemmel then closes all of the incisions with absorbable sutures, and the dressings will be applied.  One or two small drain tubes are inserted under the skin to drain excess fluid from the surgical site.  Dr. Zemmel removes them 5 to 7 days after surgery in the office.  You will receive local anesthesia for drain removal to minimize discomfort.

Dr. Zemmel will place you in an abdominal compression binder for 2 to 3 weeks after surgery.  This is a thick Velcro abdominal binder that is designed to give you uniform support across your abdomen during your recovery period.  It fits like a corset under clothing and is washable.  Dr. Zemmel and his team will place you in the binder during surgery and give you detailed instructions on its use.
Abdominoplasty requires an incision low on the abdominal wall.  Dr. Zemmel places this incision at the lowest level possible on the abdominal wall.  This allows his patients in most cases to wear bikini bottoms or revealing underwear with little or no show of the scar.  This also removes any prior c-section scar.  The skin is then lifted revealing the underlying muscle layers.  The muscles are then tightened giving an improved waistline.  The skin layer is then brought down snuggly, and the excess skin is removed.  The umbilicus (belly-button) is then brought out through a new opening at its prior height on the abdomen. Abdominoplasty can dramatically reduce the appearance of a protruding abdomen and completely remove overhanging skin from the lower abdomen.
Dr. Zemmel will make every attempt at placing the incision in an area under the bikini line for women or under a normal bathing suit for men so it is well hidden even while wearing revealing clothing.
Mini-Abdominoplasty
Occasionally some men and woman are candidates for the mini-abdominoplasty.  This procedure requires a smaller incision very similar to a C-section incision low down on the abdominal wall.  A small amount of skin from the lower abdomen is removed, and muscle tightening is accomplished below the belly button only.  Dr. Zemmel will determine whether a full abdominoplasty or a mini-abdominoplasty will yield the best results for you.
A mini-abdominoplasty takes Dr. Zemmel approximately one to two hours in surgery.  During a mini-abdominoplasty the skin is lifted only up to the navel area, and the rectus abdominus muscle is tightened only up to this level.  The skin is then pulled down snuggly and excess is removed.  The umbilicus (navel) remains in the same position and is unaltered.  The incision is located on the lower abdomen just above the pubic area or is placed just below any prior c-section scar.  Typically the incision length for a mini-abdominoplasty is shorter than a full-abdominoplasty and is very easily hidden under a bikini bottom or revealing underwear.  All incisions are closed with absorbable sutures.  Usually, Dr. Zemmel places one small drain during surgery, which is removed 4 or 5 days postoperatively.
After Surgery
For the first few days, your abdomen will probably be swollen, and you're likely to feel some pain and discomfort, which can be controlled by medication. Dr. Zemmel will prescribe several medications to minimize postoperative discomfort. These will include a pain medication such as Percocet, a muscle relaxant Valium, an antibiotic, and an anti-nausea medicine.  Patients who undergo smaller less invasive procedures typically go home the same day of surgery. Patients who undergo abdominoplasty or a combination of procedures will stay overnight in the hospital.
Dr. Zemmel admits all tummy tuck and combination body contouring patients overnight to the hospital. Dr. Zemmel will ensure that your pain is well controlled with both IV and medicines by mouth.  You will have IV nausea medicine if needed and you will receive IV fluids overnight.  Keeping you hydrated immediately after surgery is an important part of your initial recovery.  Dr. Zemmel's team of nurses will monitor you throughout the night.  You will then be seen in the morning by Dr. Zemmel and his team and discharged home when ready.  Your first follow up appointment with Dr. Zemmel will be 5 or 6 days after discharge.
Dr. Zemmel will give you full instructions for showering and changing your dressings. Although you may not be able to stand straight up at first, you should start walking as soon as possible.  Your abdomen will relax in several days at which time you will stand up straight.
Most sutures used to close the incisions are absorbable, and only a few small ones will be removed five to seven days after surgery.  For those patients who have had a tummy tuck, the drainage tubes will also be removed at this time.  All body contouring patients will then wear a light compression garment after surgery for 3 to 4 weeks time.
Through strict standards, we develop a comprehensive treatment plan with you, ensuring a smooth surgical experience and providing the results you desire and deserve.
Getting Back to Normal
Recovery is your body's response to surgery and healing.  It is a process and is not an overnight phenomenon.  Most patients who undergo body contouring may need several weeks to feel normal after surgery.  During this period, the incisions are strengthening, and the swelling and bruising resolve. Most of the initial healing occurs in the first 4 to 6 weeks, but you will continue to see an evolution of your results even 6 to 12 months after surgery.
Your scars will initially be slightly raised and red and may widen.  Over six to 12 months time, the scars will soften and fade dramatically.  At 18 to 24 months time, many patients are only left with a fine soft white line.  While scars never disappear completely, abdominal scars will not show under most clothing, even under bathing suits.
If you go into surgery in top physical condition with strong abdominal muscles, recovery from abdominoplasty will be much faster. Some people return to work after one week, while others take two or three weeks to rest and recuperate.  Exercise will help you heal better. Even people who have never exercised before should begin an exercise program to reduce swelling, lower the chance of blood clots, and tone muscles. Vigorous exercise, however, should be avoided until you can do it comfortably.  Dr. Zemmel will advise you on the time and intensity of exercise.  Dr. Zemmel will likely advise you to begin light physical exercise 2 to 3 weeks after surgery.
I had a wonderful experience. I was a little scared at first, the staff made me feel so much better. They were very helpful with my finances. I was in no pain at all. The hospital was great top of the line stay. I am so happy I choose Dr. Zemmel and stomach looks awesome.

Melody Moore

October 21, 2013

12345
Contact Richmond Aesthetic Surgery
For more information on abdominoplasty procedures, or to schedule a consultation, please contact Richmond Aesthetic Surgery.