LATISSE® Eyelash Lengthening

LATISSE® is the first and only clinically proven and FDA-approved treatment available that can actually help you grow longer, thicker, and darker eyelashes. This advanced topical treatment can be applied at home, and has shown to be remarkably effective at enhancing the appearance of eyelashes and helping patients who suffer from hypotrichosis (inadequate eyelash growth). Dr. Neil J. Zemmel offers this prescription treatment for eyelash enhancement right here at Richmond Aesthetic Surgery.
How does LATISSE® work?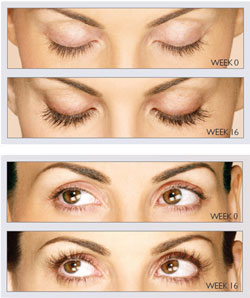 Developed through years of research by Allergan, LATISSE® is composed of a unique solution that can accentuate the look of your eyelashes and reduce your need to rely on mascara or eyelash curlers. LATISSE® is designed to be applied daily at home over a four to eight week period. Once the desired results begin to appear, the applications can be performed less frequently. Most patients see the best results after about 16 weeks of regular application.
Some patients may experience side effects such as redness, irritation, and a darkening of the skin in the treatment area when using LATISSE®. Also, those with certain allergies or medical conditions may not be candidates for this treatment. Our doctor will talk about this procedure with you in detail during your initial consultation and help you determine whether LATISSE® is the best option for your needs.
Contact our Medispa at Richmond Aesthetic Surgery
If you would like more information on LATISSE®, or if you would like to schedule a consultation to talk more about this innovative treatment, please contact Richmond Aesthetic Surgery today.