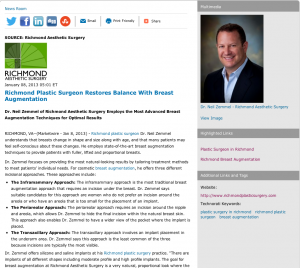 Dr. Neil Zemmel of Richmond Aesthetic Surgery employs the most advanced breast augmentation techniques for optimal results

Richmond, VA–Richmond plastic surgeon Dr. Neil Zemmel understands that breasts change in shape and size along with age, and that many patients may feel self-conscious about these changes. He employs state-of-the-art breast augmentation techniques to provide patients with fuller, lifted and proportional breasts.
Dr. Zemmel focuses on providing the most natural-looking results by tailoring treatment methods to meet patients' individual needs. For cosmetic breast augmentation, he offers three different incisional approaches. These approaches include:
The Inframammary Approach: The inframammary approach is the most traditional breast augmentation approach that requires an incision under the breast. Dr. Zemmel says suitable candidates for this approach are women who do not prefer an incision around the areola or who have an areola that is too small for the placement of an implant.
The Periareolar Approach: The periareolar approach requires an incision around the nipple and areola, which allows Dr. Zemmel to hide the final incision within the natural breast skin. This approach also enables Dr. Zemmel to have a wider view of the pocket where the implant is placed.
The Transaxillary Approach: The transaxillary approach involves an implant placement in the underarm area. Dr. Zemmel says this approach is the least common of the three because incisions are typically the most visible.
Dr. Zemmel offers silicone and saline implants at his Richmond plastic surgery practice. "There are implants of all different shapes including moderate profile and high profile implants. The goal for breast augmentation at Richmond Aesthetic Surgery is a very natural, proportional look where the patient has a fuller, lifted breast without looking unnatural or artificial," Dr. Zemmel says.
In order to provide the safest environment for patients to have surgery, Dr. Zemmel says breast augmentations are done in an outpatient setting and anesthesia is provided by a board-certified anesthesiologist. He stresses that he and his team are involved throughout the entire process and will address any concerns patients may have.
About Neil J. Zemmel, MD FACS
Dr. Neil Zemmel has received training in several different areas of plastic surgery, including head and neck reconstruction, microvascular surgery and breast augmentation. He is a graduate of the University of Virginia School of Medicine and is board-certified by the American Board of Plastic Surgery. Dr. Zemmel is a member of a number of prestigious medical organizations including the American Society for Aesthetic Plastic Surgery, the American Society of Plastic Surgeons, and the Medical Society of Virginia. He is available for interview upon request.
Previous Post
Next Post