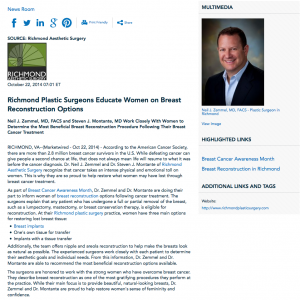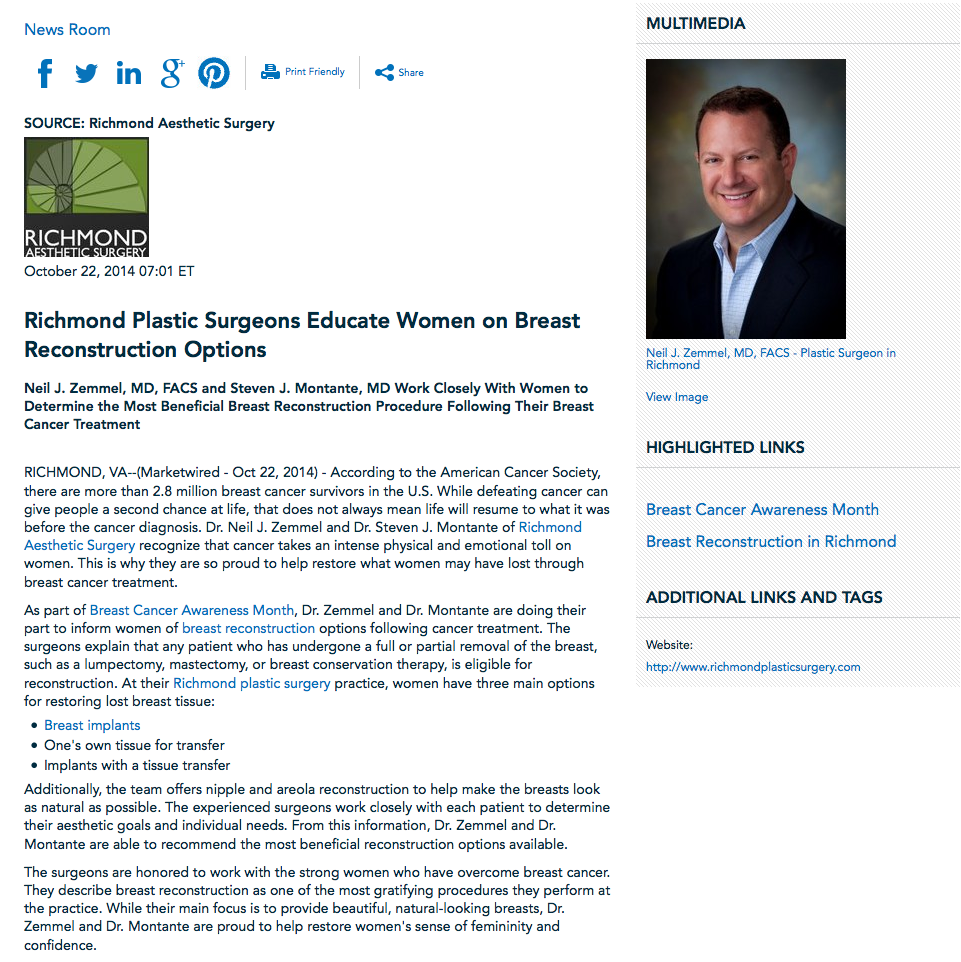 Neil J. Zemmel, MD, FACS works closely with women to determine the most beneficial breast reconstruction procedure following their breast cancer treatment.
Richmond, VA – According to the American Cancer Society, there are more than 2.8 million breast cancer survivors in the U.S. While defeating cancer can give people a second chance at life, that does not always mean life will resume to what it was before the cancer diagnosis. Dr. Neil J. Zemmel of Richmond Aesthetic Surgery recognizes that cancer takes an intense physical and emotional toll on women. This is why he is so proud to help restore what women may have lost through breast cancer treatment.
As part of Breast Cancer Awareness Month, Dr. Zemmel is doing his part to inform women of breast reconstruction options following cancer treatment. The surgeon explains that any patient who has undergone a full or partial removal of the breast, such as a lumpectomy, mastectomy, or breast conservation therapy, is eligible for reconstruction. At his Richmond plastic surgery practice, women have three main options for restoring lost breast tissue:
One's own tissue for transfer
Implants with a tissue transfer
Additionally, he offers nipple and areola reconstruction to help make the breasts look as natural as possible. The experienced surgeon works closely with each patient to determine their aesthetic goals and individual needs. From this information, Dr. Zemmel is able to recommend the most beneficial reconstruction options available.
The surgeon is honored to work with the strong women who have overcome breast cancer. He describes breast reconstruction as one of the most gratifying procedures he performs at the practice. While his main focus is to provide beautiful, natural-looking breasts, Dr. Zemmel is proud to help restore women's sense of femininity and confidence.
About Neil J. Zemmel, MD, FACS
Dr. Zemmel earned his undergraduate degree from the College of William and Mary, graduating with honors, and he continued to the University of Virginia School of Medicine, where he completed his medical degree. Dr. Zemmel then studied in a General Surgery internship at the Department of Surgery, Medical College of Virginia, where he later trained in a General Surgery residency. For his second and final residency, Dr. Zemmel studied Plastic and Reconstructive Surgery at Virginia Commonwealth University Medical Center, where he was Chief Resident. In addition to being board certified by the American Board of Plastic Surgery, Dr. Zemmel is a member of the American Society of Plastic Surgeons, the American Physicians' Fellowship for Medicine in Israel, and the American Burn Association. He is available for interview upon request.
For more information about Dr. Zemmel and his Richmond plastic surgery practice, visit richmondplasticsurgery.com, vabreastsurgery.com, and plus.google.com/109479035144616950506/about.
Contact:
Richmond Aesthetic Surgery
11934 W Broad Strest, Suite 200
Richmond, VA 23233
(804) 424-2000
Rosemont Media
(858) 200-0044
www.rosemontmedia.com
Previous Post
Next Post