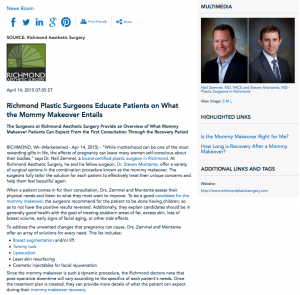 The surgeons at Richmond Aesthetic Surgery provide an overview of what mommy makeover patients can expect from the first consultation through the recovery period.
Richmond, VA – "While motherhood can be one of the most rewarding gifts in life, the effects of pregnancy can leave many women self-conscious about their bodies," says Dr. Neil Zemmel, a board-certified plastic surgeon in Richmond. At Richmond Aesthetic Surgery, he offers a variety of surgical options in the combination procedure known as the mommy makeover. The surgeons fully tailor the solution for each patient to effectively treat their unique concerns and help them feel beautiful again.
When a patient comes in for their consultation, Drs. Zemmel assesses their physical needs and listen to what they most want to improve. To be a good candidate for the mommy makeover, the surgeon recommends for the patient to be done having children, so as to not have the positive results reversed. Additionally, he explain candidates should be in generally good health with the goal of treating stubborn areas of fat, excess skin, loss of breast volume, early signs of facial aging, or other side effects.
To address the unwanted changes that pregnancy can cause, Dr. Zemmel offers an array of solutions for every need. This list includes:
Breast augmentation and/or lift
Laser skin resurfacing
Cosmetic injectables for facial rejuvenation
Since the mommy makeover is such a dynamic procedure, the Richmond doctor notes that post-operative downtime will vary according to the specifics of each patient's needs. Once the treatment plan is created, he can provide more details of what the patient can expect during their mommy makeover recovery.
Having performed the combination procedure on countless patients, Dr. Zemmel is proud to influence such a positive effect on women's self esteem, especially when they give so much to their families on a daily basis. The team at Richmond Aesthetic Surgery encourages anyone unhappy with their post-baby body to consult with a plastic surgeon to learn how surgery can help them reach their aesthetic goals.
About Richmond Aesthetic Surgery
Neil Zemmel, MD, FACS performs a variety of cosmetic and reconstructive surgery procedures at Richmond Aesthetic Surgery. Dr. Zemmel is board-certified by the American Board of Plastic Surgery, indicating his high standards of patient care and safety. Drs. Zemmel offers surgical and non-surgical treatments at their Short Pump office. He is available for interview upon request.
For more information about Richmond Aesthetic Surgery, visit richmondplasticsurgery.com, vabreastsurgery.com, and plus.google.com/109479035144616950506/about.
Contact:
Richmond Aesthetic Surgery
11934 W Broad Strest, Suite 200
Richmond, VA 23233
(804) 424-2000
Rosemont Media
(858) 200-0044
www.rosemontmedia.com
Previous Post
Next Post