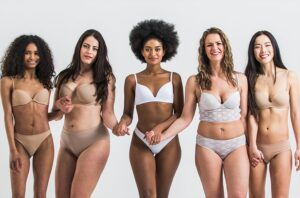 Breasts come in all shapes and sizes, and there is no one "perfect" breast shape. However, there are some common breast shapes that can be classified based on their fullness, projection, and width.
Round breasts: Round breasts are evenly full on top and bottom, and they have a smooth, rounded shape.
Teardrop breasts: Teardrop breasts are fuller on the bottom than the top, and they have a more pointed shape.
Asymmetrical breasts: Asymmetrical breasts are not perfectly even in size or shape. This is a very common variation, and it is nothing to be concerned about.
Tubular breasts, also known as tuberous breasts or constricted breasts, refer to a specific shape or condition of the breasts. It is a congenital breast anomaly characterized by the breasts having a narrow, elongated shape with a high breast fold and a less rounded appearance.
Wide-set breasts: Wide-set breasts are spaced far apart on the chest.
Close-set breasts: Close-set breasts are close together on the chest.
Breast shape can be affected by a number of factors, including genetics, weight, pregnancy, and breastfeeding. It is important to remember there are a wide range of normal breast shapes, and all are beautiful.
How Can I Change the Shape of My Breasts?
If you want to enhance the appearance of your breasts and are considering surgery, it is important to talk to a board-certified plastic surgeon about your options. A plastic surgeon can help you choose the right breast surgery for your desired results and breast shape.
Here are some of the most common breast surgeries:
Breast augmentation: Breast augmentation is a surgery to increase the size of the breasts, typically with saline or silicone implants. It is the most popular type of breast surgery.
Breast reduction: Breast reduction is a surgery to reduce the size of the breasts. It is often performed for medical reasons, such as back pain or shoulder pain.
Breast lift: Breast lift is a surgery to lift and reshape the breasts. It is often performed to correct sagging breast tissue.
Breast surgery is a major decision, and you should do your research before choosing to move forward. It is also important to talk to a qualified plastic surgeon about your expectations and risks.
Previous Post
Next Post