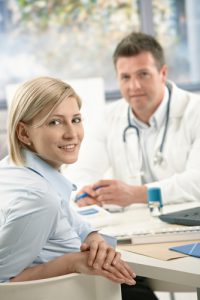 What if we told you that you could see your potential breast augmentation results before actually going into surgery? With the help of a simple mirror and/or advanced 3-D imaging technology, Richmond Aesthetic Surgery can help you visualize what your results can look like before committing to a specific type or size of breast implants.
As explained in our previous blog post entitled "Finding the Perfect Breast Implant Size," Dr. Neil J. Zemmel conducts a comprehensive consultation to help you find the best implants for your body type. After numerous measurements are made, an ideal range of implant sizes is selected, and he has you try on the various sizes in front of a full-length mirror. This process is done at least two different times to make sure you are happy with your choice.
With the knowledge of your current dimensions and your goal results, Dr. Zemmel can help you achieve natural-looking breast augmentation results that are proportionate to the rest of your body. To learn more about the process, or to schedule your consultation with our plastic surgeon, please contact our practice today.
Previous Post
Next Post