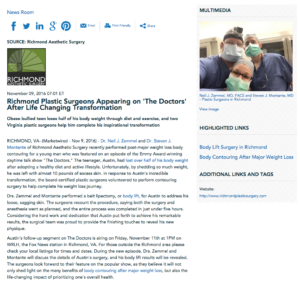 Obese bullied teen loses half of his body weight through diet and exercise, and two Virginia plastic surgeons help him complete his inspirational transformation.
Richmond, VA — Dr. Neil J. Zemmel of Richmond Aesthetic Surgery recently performed post-major weight loss body contouring for a young man who was featured on an episode of the Emmy Award-winning daytime talk show "The Doctors." The teenager, Austin, had lost over half of his body weight after adopting a healthy diet and active lifestyle. Unfortunately, by shedding so much weight, he was left with almost 10 pounds of excess skin. In response to Austin's incredible transformation, our board-certified plastic surgeon Dr. Neil J. Zemmel volunteered to perform contouring surgery to help complete his weight loss journey.
Dr. Zemmel performed a belt lipectomy, or body lift, for Austin to address his loose, sagging skin. The surgeon recounts the procedure, saying both the surgery and anesthesia went as planned, and the entire process was completed in just under five hours. Considering the hard work and dedication that Austin put forth to achieve his remarkable results, the surgical team was proud to provide the finishing touches to reveal his new physique.
Austin's follow-up segment on The Doctors is airing Friday, November 11th at 1PM on WRLH, the Fox News station in Richmond, VA. For those outside the Richmond area please check your local listings for times and dates. During the new episode, Dr. Zemmel will discuss the details of Austin's surgery, and his body lift results will be revealed. The surgeon looks forward to his feature on the popular show, as he believes it will not only shed light on the many benefits of body contouring after major weight loss, but also the life-changing impact of prioritizing one's overall health.
About Richmond Aesthetic Surgery
Dr. Zemmel is the Medical Director of Richmond Aesthetic Surgery. The experienced plastic surgery doctor offers patients a comprehensive array of cosmetic and reconstructive procedures. From facial rejuvenation to breast surgery and body contouring, Dr. Zemmel strives to help patients achieve their goal results through customized treatments using the most advanced surgical techniques. He is certified by the American Board of Plastic Surgery, indicating his commitment to continuing education, strict safety standards, and high quality care. He is available for interview upon request.
For more information about Richmond Aesthetic Surgery, visit richmondplasticsurgery.com.
Contact:
Richmond Aesthetic Surgery
11934 W Broad Strest, Suite 200
Richmond, VA 23233
(804) 424-2000
Rosemont Media
(858) 200-0044
www.rosemontmedia.com
Previous Post
Next Post