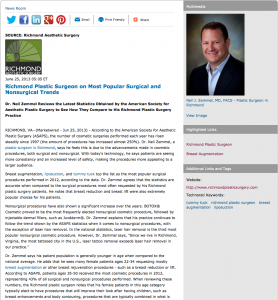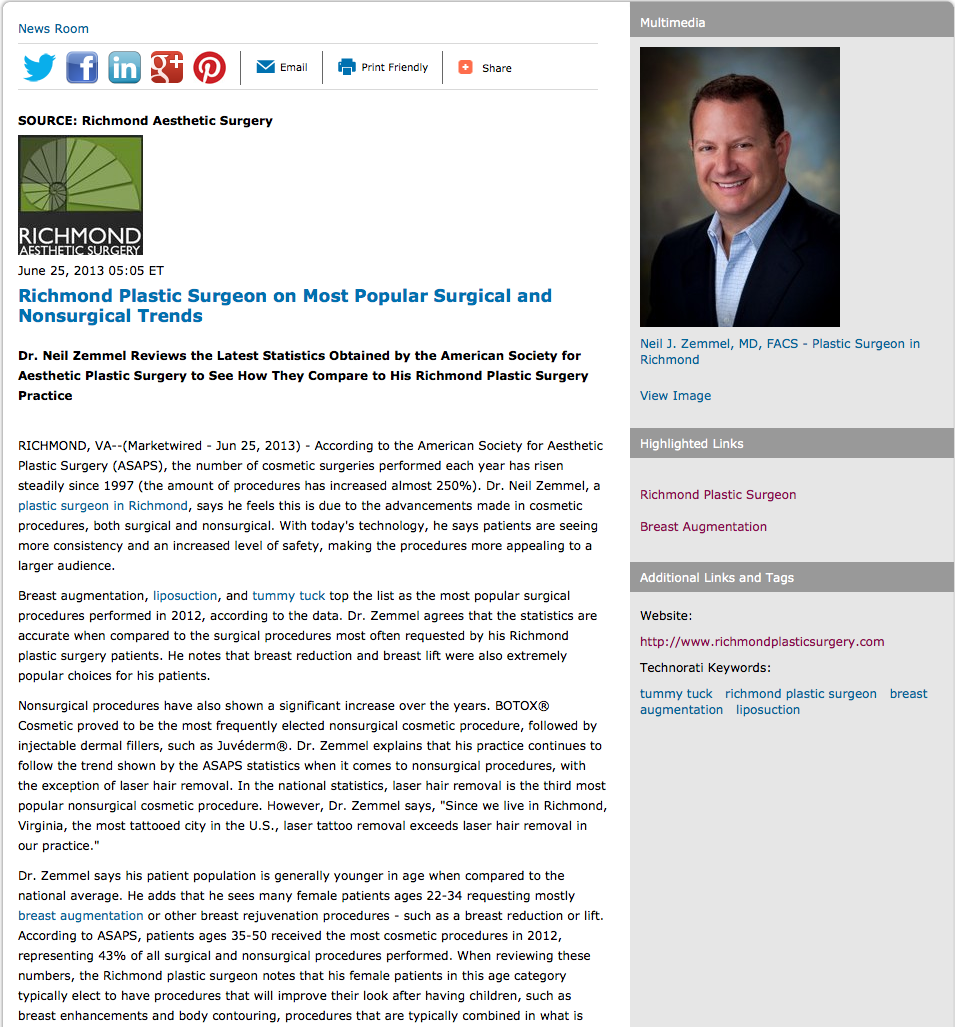 Dr. Neil Zemmel reviews the latest statistics obtained by the American Society for Aesthetic Plastic Surgery to see how they compare to his Richmond plastic surgery practice.
Richmond, VA — According to the American Society for Aesthetic Plastic Surgery (ASAPS), the number of cosmetic surgeries performed each year has risen steadily since 1997 (the amount of procedures has increased almost 250%). Dr. Neil Zemmel, a plastic surgeon in Richmond, says he feels this is due to the advancements made in cosmetic procedures, both surgical and nonsurgical. With today's technology, he says patients are seeing more consistency and an increased level of safety, making the procedures more appealing to a larger audience.
Breast augmentation, liposuction, and tummy tuck top the list as the most popular surgical procedures performed in 2012, according to the data. Dr. Zemmel agrees that the statistics are accurate when compared to the surgical procedures most often requested by his Richmond plastic surgery patients. He notes that breast reduction and breast lift were also extremely popular choices for his patients.
Nonsurgical procedures have also shown a significant increase over the years. BOTOX® Cosmetic proved to be the most frequently elected nonsurgical cosmetic procedure, followed by injectable dermal fillers, such as Juvéderm®. Dr. Zemmel explains that his practice continues to follow the trend shown by the ASAPS statistics when it comes to nonsurgical procedures, with the exception of laser hair removal. In the national statistics, laser hair removal is the third most popular nonsurgical cosmetic procedure. However, Dr. Zemmel says, "Since we live in Richmond, Virginia, the most tattooed city in the U.S., laser tattoo removal exceeds laser hair removal in our practice."
Dr. Zemmel says his patient population is generally younger in age when compared to the national average. He adds that he sees many female patients ages 22-34 requesting mostly breast augmentation or other breast rejuvenation procedures – such as a breast reduction or lift. According to ASAPS, patients ages 35-50 received the most cosmetic procedures in 2012, representing 43% of all surgical and nonsurgical procedures performed. When reviewing these numbers, the Richmond plastic surgeon notes that his female patients in this age category typically elect to have procedures that will improve their look after having children, such as breast enhancements and body contouring, procedures that are typically combined in what is commonly referred to as a "mommy makeover." Other popular procedures for this age group, according to Dr. Zemmel, include nonsurgical facial rejuvenation through injectable dermal fillers, medical grade skin care, BOTOX® Cosmetic, and laser treatments.
Overall, Dr. Zemmel felt that the statistics were fairly accurate when compared to his practice. He predicts that tattoo removal will continue to be a popular procedure for his patients, due to new laser technology which allows him to remove many different ink colors with a fewer number of treatments. He also expects to see a continued rise in requests for breast augmentation, noting that "our practice is becoming known regionally and state-wide for the quality and consistency of breast augmentation results. We strive to produce natural, proportional breast augmentation results with the least invasive surgical techniques available."
About Neil J. Zemmel, MD, FACS
Certified by the American Board of Plastic Surgery, Dr. Neil Zemmel is a highly-trained plastic surgeon practicing in Richmond, VA. Although he has experience in a broad range of surgeries, he focuses his talents on cosmetic and reconstructive plastic surgery. He is an active member of the American Society of Plastic Surgeons, the American Society for Aesthetic Plastic Surgery, and the Medical Society of Virginia. Dr. Zemmel has also dedicated his time and skills to Operation Kids, a surgical mission group that travels to Guatemala annually, providing complex reconstructive surgery to those in need. Dr. Zemmel is available for interview upon request.
Previous Post
Next Post