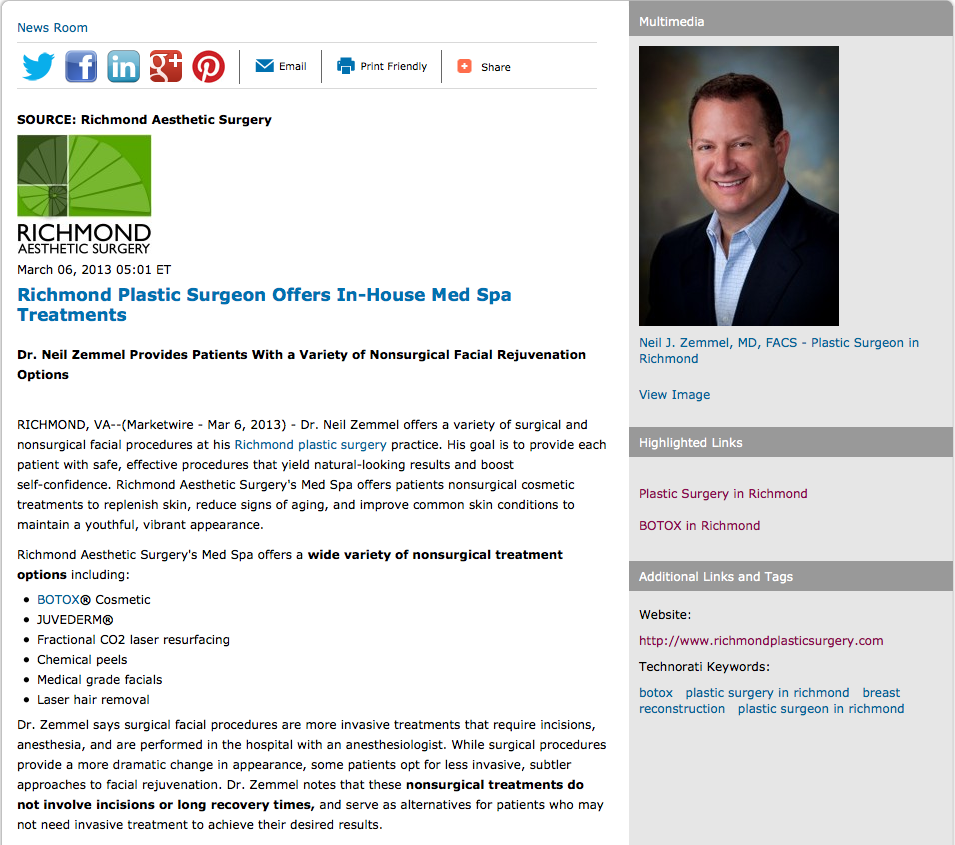 Dr. Neil Zemmel provides patients with a variety of nonsurgical facial rejuvenation options
Richmond, VA – Dr. Neil Zemmel offers a variety of surgical and nonsurgical facial procedures at his Richmond plastic surgery practice. His goal is to provide each patient with safe, effective procedures that yield natural-looking results and boost self-confidence. Richmond Aesthetic Surgery's Med Spa offers patients nonsurgical cosmetic treatments to replenish skin, reduce signs of aging, and improve common skin conditions to maintain a youthful, vibrant appearance.
Richmond Aesthetic Surgery's Med Spa offers a wide variety of nonsurgical treatment options including:
BOTOX® Cosmetic
JUVEDERM®
Fractional CO2 laser resurfacing
Chemical peels
Medical grade facials
Laser hair removal
Dr. Zemmel says surgical facial procedures are more invasive treatments that require incisions, anesthesia, and are performed in the hospital with an anesthesiologist. While surgical procedures provide a more dramatic change in appearance, some patients opt for less invasive, subtler approaches to facial rejuvenation. Dr. Zemmel notes that these nonsurgical treatments do not involve incisions or long recovery times, and serve as alternatives for patients who may not need invasive treatment to achieve their desired results.
Nonsurgical facial procedures provide benefits such as:
Reduction of minor wrinkles
Reduction of sun damage and age spots
Reduction of minor scarring
Soft tissue augmentation of the face
Lip augmentation
Treatment of thickened labionasal folds
Tightening of skin
Smoothing out discoloration or hyperpigmentation
Dr. Zemmel, a Richmond plastic surgeon, says that during their initial consultation at Richmond Aesthetic Surgery's Med Spa, patients will be given an overview of their options and a customized treatment plan to achieve their individual needs. The Med Spa also offers packages that include a series of treatments to help patients attain healthier-looking skin with a smoother, more youthful sheen.
About Neil J. Zemmel, MD, FACS
A graduate of the College of William and Mary in Williamsburg, Dr. Neil Zemmel earned his medical degree at the University of Virginia School of Medicine and the Virginia Commonwealth University Medical Center. He has also lectured on a wide range of topics including the latest techniques in liposuction, artificial skin technology, breast reconstruction, and new facial rejuvenation techniques. Dr. Zemmel currently serves as a Diplomate of the American Board of Plastic Surgery and is the Director of Plastic Surgery Services at St. Francis Hospital. He is available for interview upon request.
Previous Post
Next Post