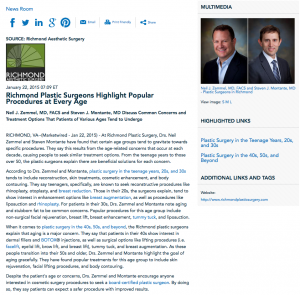 Neil J. Zemmel, MD, FACS discusses common concerns and treatment options that patients of various ages tend to undergo.
Richmond, VA – At Richmond Plastic Surgery, Dr. Neil Zemmel has found that certain age groups tend to gravitate towards specific procedures. He says this results from the age-related concerns that occur at each decade, causing people to seek similar treatment options. From the teenage years to those over 50, the plastic surgeon explains there are beneficial solutions for each concern.
According to Dr. Zemmel, plastic surgery in the teenage years, 20s, and 30s tends to include reconstruction, skin treatments, cosmetic enhancement, and body contouring. He say teenagers, specifically, are known to seek reconstructive procedures like rhinoplasty, otoplasty, and breast reduction. Those in their 20s, the surgeons explain, tend to show interest in enhancement options like breast augmentation, as well as procedures like liposuction and rhinoplasty. For patients in their 30s, Dr. Zemmel notes aging and stubborn fat to be common concerns. Popular procedures for this age group include non-surgical facial rejuvenation, breast lift, breast enhancement, tummy tuck, and liposuction.
When it comes to plastic surgery in the 40s, 50s, and beyond, the Richmond plastic surgeon explains that aging is a major concern. He says that patients in their 40s show interest in dermal fillers and BOTOX® injections, as well as surgical options like lifting procedures (i.e. facelift, eyelid lift, brow lift, and breast lift), tummy tuck, and breast augmentation. As these people transition into their 50s and older, Dr. Zemmel highlights the goal of aging gracefully. He has found popular treatments for this age group to include skin rejuvenation, facial lifting procedures, and body contouring.
Despite the patient's age or concerns, Dr. Zemmel encourages anyone interested in cosmetic surgery procedures to seek an experienced plastic surgeon. By doing so, he says patients can expect a safer procedure with improved results.
About Neil J. Zemmel, MD, FACS
Board-certified plastic surgeon Dr. Neil Zemmel earned his medical degree from the University of Virginia School of Medicine and continued to the Medical College of Virginia, Richmond, Department of Surgery, where he completed an internship and residency in general surgery. Dr. Zemmel then studied at the Virginia Commonwealth University Medical Center, Richmond, where he served as Chief Resident during his plastic and reconstructive surgery residency. He is a member of several professional organizations, including the American Society of Plastic Surgeons, the American Physicians Fellowship for Medicine in Israel, and the mEdical Society of Virginia. Dr. Zemmel is available for interview upon request.
For more information about Richmond Aesthetic Surgery, visit richmondplasticsurgery.com, vabreastsurgery.com, and plus.google.com/109479035144616950506/about.
Contact:
Richmond Aesthetic Surgery
11934 W Broad Strest, Suite 200
Richmond, VA 23233
(804) 424-2000
Rosemont Media
(858) 200-0044
www.rosemontmedia.com
Previous Post
Next Post