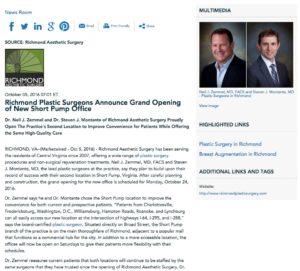 Dr. Neil J. Zemmel of Richmond Aesthetic Surgery proudly opens the practice's second location to improve convenience for patients while offering the same high-quality care.
Richmond, VA — Richmond Aesthetic Surgery has been serving the residents of Central Virginia since 2007, offering a wide range of plastic surgery procedures and non-surgical rejuvenation treatments. Neil J. Zemmel, MD, FACS the lead plastic surgeon at the practice, say he plans to build upon their record of success with the second location in Short Pump, Virginia. After careful planning and construction, the grand opening for the new office is scheduled for Monday, October 24, 2016.
Dr. Zemmel says he chose the Short Pump location to improve the convenience for both current and prospective patients. "Patients from Charlottesville, Fredericksburg, Washington, D.C., Williamsburg, Hampton Roads, Roanoke, and Lynchburg can all easily access our new location at the intersection of highways I-64, I-295, and I-288," says the board-certified plastic surgeon. Situated directly on Broad Street, the Short Pump branch of the practice is on the main thoroughfare of Richmond, adjacent to a popular mall that functions as a commercial hub for the city. In addition to a more accessible location, the offices will now be open on Saturdays to give their patients more flexibility with their schedules.
Dr. Zemmel reassures current patients that both locations will continue to be staffed by the same surgeons that they have trusted since the opening of Richmond Aesthetic Surgery. The team also highlights that all nurse practitioners that work for the practice are fully licensed with at least ten years of experience in cosmetics. At the new Short Pump location, the office will be divided into two spaces: one for surgical procedures, such as breast augmentation, tummy tuck, and facelift surgery, and another for patients of Dermlounge. The plastic surgeon is happy to be able to offer the men and women throughout the Virginia and Washington, D.C. area the same diverse array of cosmetic procedures and med spa treatments that their current patients have enjoyed for a decade.
About Richmond Aesthetic Surgery
Dr. Neil J. Zemmel, founder of Richmond Aesthetic Surgery, provides patients a full range of plastic and reconstructive surgery procedures for the breasts, body, and face along with his team. He is a board-certified plastic surgeon and active member of the American Society of Plastic Surgeons. Dr. Zemmel is also a Fellow of the American College of Surgeons and belongs to the American Society for Aesthetic Plastic Surgery. Dr. Zemmel is available for interview upon request.
Contact:
Richmond Aesthetic Surgery
11934 W Broad Street, Suite 200
Richmond, VA 23233
(804) 424-2000
Rosemont Media
(858) 200-0044
www.rosemontmedia.com
Previous Post
Next Post