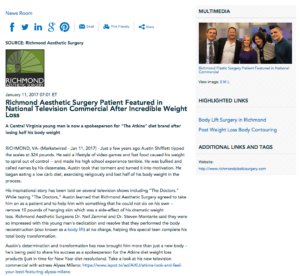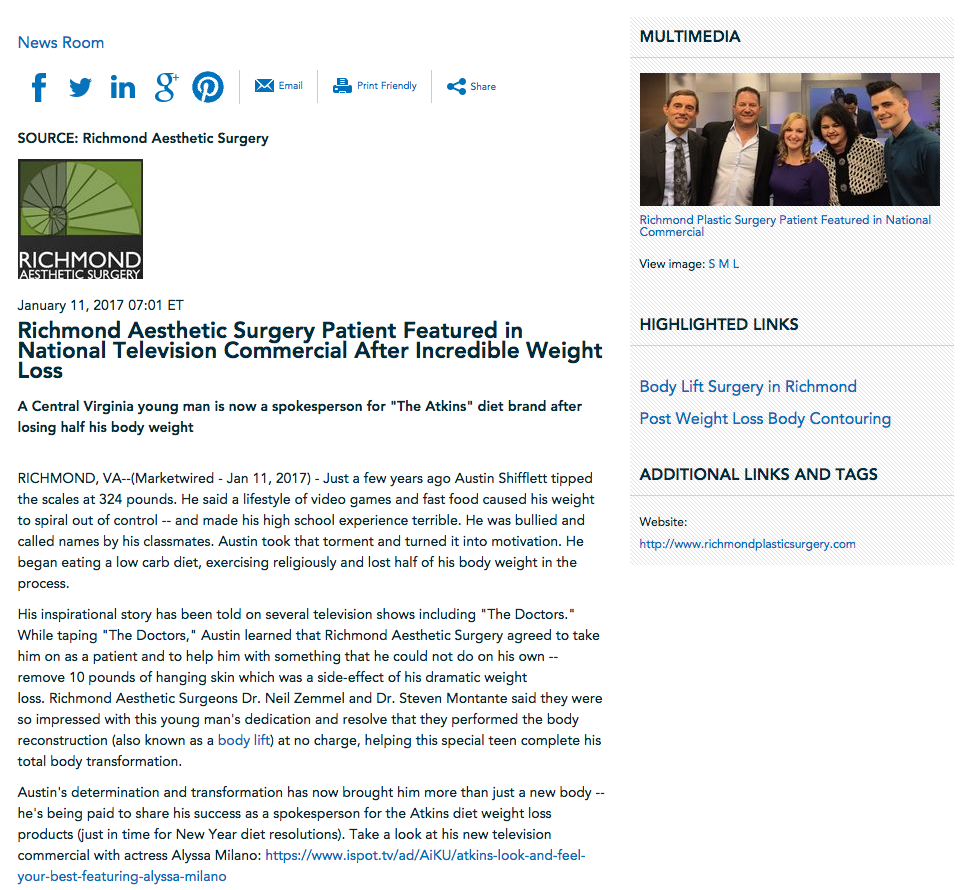 A Central Virginia young man is now a spokesperson for "The Atkins" diet brand after losing half his body weight.
Richmond, VA — Just a few years ago Austin Shifflett tipped the scales at 324 pounds. He said a lifestyle of video games and fast food caused his weight to spiral out of control – and made his high school experience terrible. He was bullied and called names by his classmates. Austin took that torment and turned it into motivation. He began eating a low carb diet, exercising religiously and lost half of his body weight in the process.
His inspirational story has been told on several television shows including "The Doctors". While taping "The Doctors", Austin learned that Richmond Aesthetic Surgery agreed to take him on as a patient and to help him with something that he could not do on his own – remove 10 pounds of hanging skin which was a side-effect of his dramatic weight loss. Richmond Aesthetic Surgeon Dr. Neil Zemmel said he was so impressed with this young man's dedication and resolve that he performed the body reconstruction (also known as a body lift) at no charge, helping this special teen complete his total body transformation.
Austin's determination and transformation has now brought him more than just a new body – he's being paid to share his success as a spokesperson for the Atkins diet weight loss products (just in time for New Year diet resolutions). Take a look at his new television commercial with actress Alyssa Milano: https://www.ispot.tv/ad/AiKU/atkins-look-and-feel-your-best-featuring-alyssa-milano
You can watch Austin's weight loss transformation story by following this link: http://www.thedoctorstv.com/articles/3562-go-inside-an-excess-skin-removal-surgery#disqus_thread
Richmond Aesthetic Surgery is proud to have played a small part in this young man's incredible transformation and hopes that his success inspires others across the country to take charge of their life and improve their health.
Austin and Dr. Zemmel are available for interviews. Please contact Andrea Emery Cumbie @ 804-312-4102 for scheduling.
Contact:
Andrea Emery Cumbie
RVA Video
Phone: (804) 312–4102
[email protected]
Rosemont Media
(858) 200-0044
www.rosemontmedia.com
Previous Post
Next Post