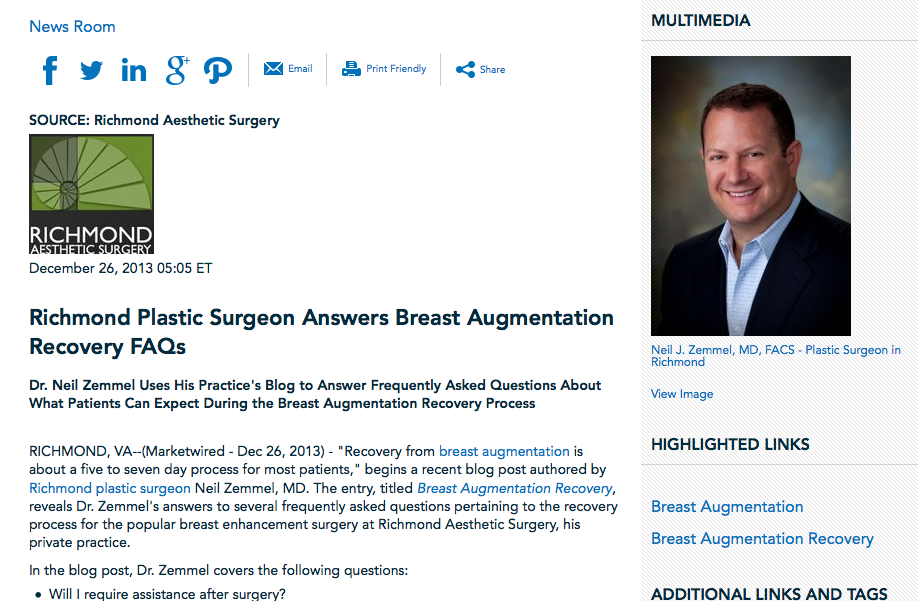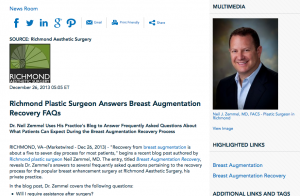 Dr. Neil Zemmel uses his practice's blog to answer frequently asked questions about what patients can expect during the breast augmentation recovery process.
Richmond, VA — "Recovery from breast augmentation is about a five to seven day process for most patients," begins a recent blog post authored by Richmond plastic surgeon Neil Zemmel, MD. The entry, titled Breast Augmentation Recovery, reveals Dr. Zemmel's answers to several frequently asked questions pertaining to the recovery process for the popular breast enhancement surgery at Richmond Aesthetic Surgery, his private practice.
In the blog post, Dr. Zemmel covers the following questions:
Will I require assistance after surgery?
How often will I need to return for follow-up visits?
Will I need to wear any dressings or special garments throughout the healing process?
Will I need to take any postsurgical medication?
How soon can I return to my daily routines and exercise?
What can I expect as far as scarring is concerned?
In summary, Dr. Zemmel says patients can generally expect the majority of recovery to encompass a five to seven day span during which they will need to rest and more than likely rely on occasional help from friends and family. Follow-up visits to monitor recovery and results are typically required at the one day, one week, two week, and one month marks, succeeded by periodical long-term visits thereafter. A special soft sports bra (provided by Dr. Zemmel) will need to worn for about three weeks after surgery, and postsurgical medication will often be prescribed on an as-needed basis.
Although most patients can resume their normal daily routines after about one week, Dr. Zemmel advises them to avoid light cardio exercise for two weeks and full cardio and weightlifting for at least three weeks. Depending on the breast augmentation technique utilized, any scarring will typically be well-concealed and often fade over time.
In the end, Dr. Zemmel concludes the post with some words of advice: "We educate our patients to understand that healing is a process. You must give your body time to heal and recover, and if you do, you may be able to achieve beautiful, long-lasting results."
About Neil J. Zemmel, MD, FACS
A graduate of the College of William and Mary, Dr. Zemmel earned his medical degree from the University of Virginia School of Medicine. He went on to complete a Residency in General Surgery and a Residency in Plastic and Reconstructive Surgery at the Medical College of Virginia and Virginia Commonwealth University Medical Center, respectively. Dr. Zemmel is certified by the American Board of Plastic Surgery and a member of the American Society of Plastic Surgeons, among several other prestigious medical organizations. He is available for interview upon request.
For more information about Dr. Zemmel and his Richmond plastic surgery practice, visit richmondplasticsurgery.com, vabreastsurgery.com, and plus.google.com/109479035144616950506/about.
Contact:
Richmond Aesthetic Surgery
11934 W Broad Strest, Suite 200
Richmond, VA 23233
(804) 424-2000
Rosemont Media
[email protected]
(858) 200-0044
www.rosemontmedia.com
Previous Post
Next Post