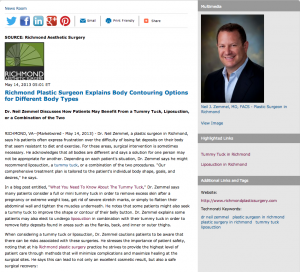 Dr. Neil Zemmel discusses how patients may benefit from a tummy tuck, liposuction, or a combination of the two.
Richmond, VA — Dr. Neil Zemmel, a plastic surgeon in Richmond, says his patients often express frustration over the difficulty of losing fat deposits on their body that seem resistant to diet and exercise. For these areas, surgical intervention is sometimes necessary. He acknowledges that all bodies are different and says a solution for one person may not be appropriate for another. Depending on each patient's situation, Dr. Zemmel says he might recommend liposuction, a tummy tuck, or a combination of the two procedures. "Our comprehensive treatment plan is tailored to the patient's individual body shape, goals, and desires," he says.
In a blog post entitled, "What You Need To Know About The Tummy Tuck," Dr. Zemmel says many patients consider a full or mini tummy tuck in order to remove excess skin after a pregnancy or extreme weight loss, get rid of severe stretch marks, or simply to flatten their abdominal wall and tighten the muscles underneath. He notes that some patients might also seek a tummy tuck to improve the shape or contour of their belly button. Dr. Zemmel explains some patients may also elect to undergo liposuction in combination with their tummy tuck in order to remove fatty deposits found in areas such as the flanks, back, and inner or outer thighs.
When considering a tummy tuck or liposuction, Dr. Zemmel cautions patients to be aware that there can be risks associated with these surgeries. He stresses the importance of patient safety, noting that at his Richmond plastic surgery practice he strives to provide the highest level of patient care through methods that will minimize complications and maximize healing at the surgical sites. He says this can lead to not only an excellent cosmetic result, but also a safe surgical recovery:
"Most of our body contouring patients are admitted to the hospital overnight for observation. This allows us to carefully monitor their recovery during the first 24 to 48 hours after surgery. This period of time is critical in obtaining a safe and uncomplicated recovery and we believe is one of the main reasons our patients have an extremely low complication rate after surgery."
The Richmond plastic surgeon urges those who feel these procedures may be right for them to seek consultation with a board-certified plastic surgeon. In consultations with his patients, Dr. Zemmel says he takes the time to get to know his patients on an individual level, discusses their surgical options, then conducts a physical exam in order to determine a comprehensive treatment plan that is personalized to them.
About Neil J. Zemmel, MD, FACS
Dr. Neil Zemmel is a graduate of the University of Virginia School of Medicine and is board-certified by the American Board of Plastic Surgery. After medical school, he was selected to train in a highly competitive six-year plastic and reconstructive surgery program at Virginia Commonwealth University, where he received comprehensive surgical training and performed many complex reconstructive procedures. He is currently an active member of the American Society of Plastic Surgeons, the American Society for Aesthetic Plastic Surgery, and is a Fellow of the American College of Surgeons. Dr. Zemmel is available for interview upon request.

Previous Post
Next Post