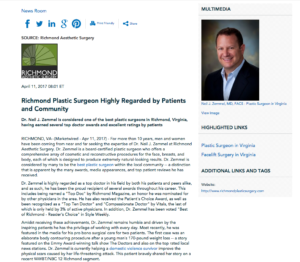 Dr. Neil J. Zemmel is considered one of the best plastic surgeons in Richmond, Virginia, having earned several top doctor awards and excellent ratings by patients.
Richmond, VA — For more than 10 years, men and women have been coming from near and far seeking the expertise of Dr. Neil J. Zemmel at Richmond Aesthetic Surgery. Dr. Zemmel is a  board-certified plastic surgeon who offers a comprehensive array of cosmetic and reconstructive procedures for the face, breasts, and body, each of which is designed to produce extremely natural-looking results. Dr. Zemmel is considered by many to be the best plastic surgeon within the local community—a distinction that is apparent by the many awards, media appearances, and top patient reviews he has received.
Dr. Zemmel is highly regarded as a top doctor in his field by both his patients and peers alike, and as such, he has been the proud recipient of several awards throughout his career. This includes being named a "Top Doc" by Richmond Magazine, an honor he was nominated for by other physicians in the area. He has also received the Patient's Choice Award, as well as been recognized as a "Top Ten Doctor" and "Compassionate Doctor" by Vitals, the last of which is only held by 3% of active physicians. In addition, Dr. Zemmel has been voted "Best of Richmond – Reader's Choice" in Style Weekly.
Amidst receiving these achievements, Dr. Zemmel remains humble and driven by the inspiring patients he has the privilege of working with every day. Most recently, he was featured in the media for his pro bono surgical care for two patients. The first case was an elaborate body contouring procedure after a young man's 170-pound weight loss—a story featured on the Emmy Award-winning talk show The Doctors and also on the top rated local news stations. Dr. Zemmel is currently helping a domestic violence survivor improve the physical scars caused by her life-threatening attack. This patient bravely shared her story on a recent WWBT/NBC 12 Richmond segment.
Aside from those who have made their stories public in the media, numerous patients have chosen to rate Dr. Zemmel across different review sites. The five-star rating consistently found on these sites is further testament to the advanced skill and attention to patient care to which Dr. Zemmel remains dedicated.
Whether looking at his awards, media appearances, or patient reviews, there is no doubt that Dr. Zemmel has made an impact through his work in plastic surgery, and has earned a respected standing within the Richmond community. He is proud to have made a difference in so many patients' lives and strives to keep doing so, one surgery at a time.
About Neil J. Zemmel, MD, FACS
Dr. Zemmel is the Medical Director of Richmond Aesthetic Surgery, where he works alongside his team, to provide an all-inclusive collection of procedures, including facelift, breast augmentation, and tummy tuck surgery. Dr. Zemmel earned his medical degree from the University of Virginia School of Medicine, after which he completed his general and plastic surgery residency training at the Virginia Commonwealth University Medical Center. In addition to treating patients at his private practice, Dr. Zemmel is active in several professional associations, including being a Fellow of the American College of Surgeons and a member of the American Society of Plastic Surgery, the American Society for Aesthetic Plastic Surgery, and the Medical Society of Virginia. He is available for interview upon request.
For more information about Richmond Aesthetic Surgery, visit richmondplasticsurgery.com.
Contact:
Richmond Aesthetic Surgery
11934 W Broad Street
Suite 200
Richmond, VA 23233
(804) 424-2000
Rosemont Media
(858) 200-0044
www.rosemontmedia.com
Previous Post
Next Post