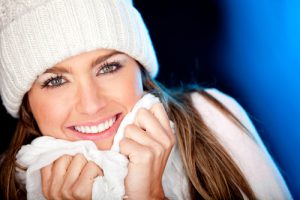 Breakouts and dry skin may mean there's too much on your plate. Stress raises levels of cortisol, which in turn, ups oil production. Also, getting a bit too joyous with the cocktails can dehydrate you, resulting in dry skin; and winter air parches you from the outside, making skin flaky. Lack of sleep can bring on another problem: skin care laziness. Here are a few simple tips for tackling these issues:
Soothe stress, sleeplessness and skin with a 10-minute warm bath
Apply moisturizer while skin is wet, this will help trap moisture in the top two layers of your skin
Alternate drinking alcohol with water to slow your intake, and stay hydrated
Use a moisturizer/sunscreen combo, so you can save yourself an extra step
The cold and wind can really take a toll on your complexion. I like to use a thicker, more intense moisturizer during these winter months. I especially like Skin Ceuticals Emollience and Hydrating B5 Gel. And of course, I never forget my sunscreen. During this holiday season while you're busy thinking of everyone else, don't forget to take care of yourself too!
Contact us for more information on all of our skin care options (804)464-3801. We also have gift certificates that are perfect for the holiday season!
Previous Post
Next Post