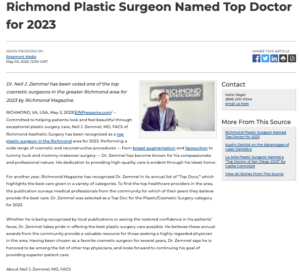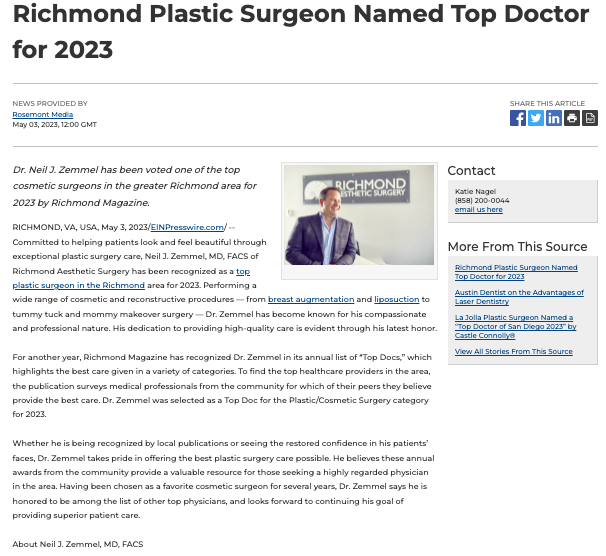 Dr. Neil J. Zemmel has been voted one of the top cosmetic surgeons in the greater Richmond area for 2023 by Richmond Magazine.
Richmond, VA — Committed to helping patients look and feel beautiful through exceptional plastic surgery care, Neil J. Zemmel, MD, FACS of Richmond Aesthetic Surgery has been recognized as a top plastic surgeon in the Richmond area for 2023. Performing a wide range of cosmetic and reconstructive procedures — from breast augmentation and liposuction to tummy tuck and mommy makeover surgery — Dr. Zemmel has become known for his compassionate and professional nature. His dedication to providing high-quality care is evident through his latest honor.
For another year, Richmond Magazine has recognized Dr. Zemmel in its annual list of "Top Docs," which highlights the best care given in a variety of categories. To find the top healthcare providers in the area, the publication surveys medical professionals from the community for which of their peers they believe provide the best care. Dr. Zemmel was selected as a Top Doc for the Plastic/Cosmetic Surgery category for 2023.
Whether he is being recognized by local publications or seeing the restored confidence in his patients' faces, Dr. Zemmel takes pride in offering the best plastic surgery care possible. He believes these annual awards from the community provide a valuable resource for those seeking a highly regarded physician in the area. Having been chosen as a favorite cosmetic surgeon for several years, Dr. Zemmel says he is honored to be among the list of other top physicians, and looks forward to continuing his goal of providing superior patient care.
About Neil J. Zemmel, MD, FACS
Dr. Zemmel is a board-certified plastic surgeon offering a comprehensive array of cosmetic and reconstructive procedures at Richmond Aesthetic Surgery. He graduated from the University of Virginia School of Medicine with his Medical Degree, and was selected to train in the competitive six-year Plastic and Reconstructive Surgery program at the Virginia Commonwealth University Medical Center. In addition to caring for patients at his private practice, Dr. Zemmel is involved with several professional associations, including being a Fellow of the American College of Surgeons and a member of the American Society of Plastic Surgeons and The Aesthetic Society. He is available for interview upon request.
For more information about Richmond Aesthetic Surgery, visit richmondplasticsurgery.com and facebook.com/RichmondAestheticSurgery.
Contact:
Richmond Aesthetic Surgery
11934 W Broad Street
Suite 200
Richmond, VA 23233
(804) 423-2100
Rosemont Media
(858) 200-0044
www.rosemontmedia.com
Previous Post
Next Post