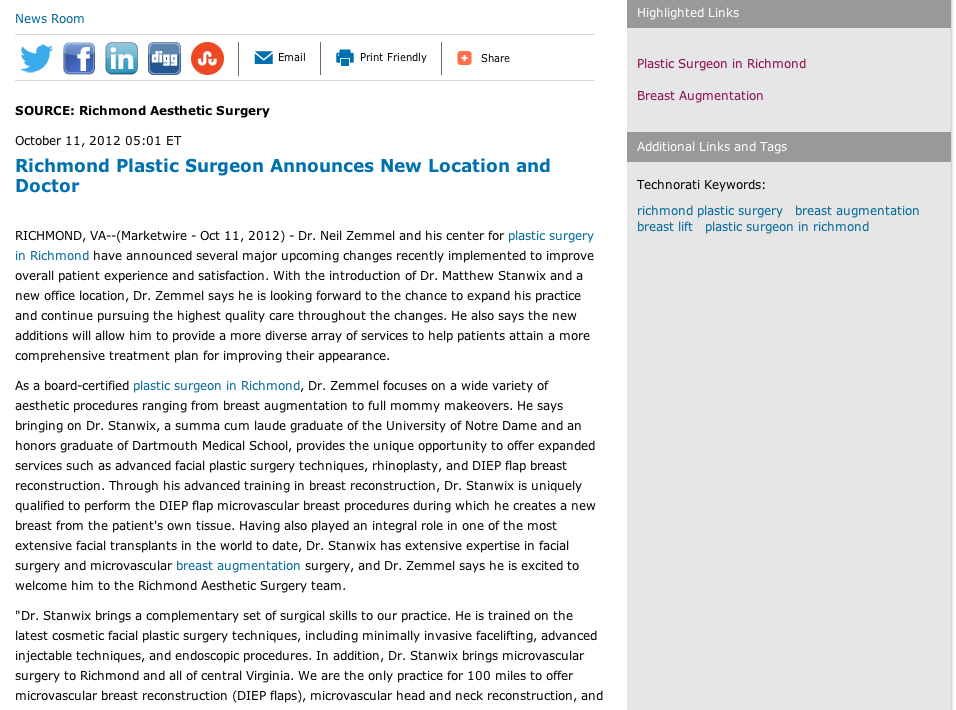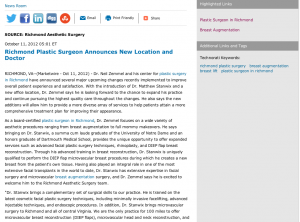 Richmond, VA — Dr. Neil Zemmel and his center for plastic surgery in Richmond have announced several major upcoming changes recently implemented to improve overall patient experience and satisfaction. With the introduction of Dr. Matthew Stanwix and a new office location, Dr. Zemmel says he is looking forward to the chance to expand his practice and continue pursuing the highest quality care throughout the changes. He also says the new additions will allow him to provide a more diverse array of services to help patients attain a more comprehensive treatment plan for improving their appearance.
As a board-certified plastic surgeon in Richmond, Dr. Zemmel focuses on a wide variety of aesthetic procedures ranging from breast augmentation to full mommy makeovers. He says bringing on Dr. Stanwix, a summa cum laude graduate of the University of Notre Dame and an honors graduate of Dartmouth Medical School, provides the unique opportunity to offer expanded services such as advanced facial plastic surgery techniques, rhinoplasty, and DIEP flap breast reconstruction. Through his advanced training in breast reconstruction, Dr. Stanwix is uniquely qualified to perform the DIEP flap microvascular breast procedures during which he creates a new breast from the patient's own tissue. Having also played an integral role in one of the most extensive facial transplants in the world to date, Dr. Stanwix has extensive expertise in facial surgery and microvascular breast augmentation surgery, and Dr. Zemmel says he is excited to welcome him to the Richmond Aesthetic Surgery team.
"Dr. Stanwix brings a complementary set of surgical skills to our practice. He is trained on the latest cosmetic facial plastic surgery techniques, including minimally invasive facelifting, advanced injectable techniques, and endoscopic procedures. In addition, Dr. Stanwix brings microvascular surgery to Richmond and all of central Virginia. We are the only practice for 100 miles to offer microvascular breast reconstruction (DIEP flaps), microvascular head and neck reconstruction, and microvascular lower extremity reconstruction. This is a tremendous asset to the Richmond community at large."
Throughout the transition into the new location at 11934 W Broad Strest, Suite 200 in Richmond, VA 23233, Dr. Zemmel says he aims to preserve his practice's focus on patient results, comfort and satisfaction. While he says the new office will provide a number of enhanced benefits including a redesigned interior and advanced technology, Dr. Zemmel adds that his primary focus will still be on his patients, a priority he says has been the cornerstone of his practice since becoming a plastic surgeon. Whether patients are looking for a breast lift or a facial procedure, he says he hopes patients find the improved office and personable, professional nature of Dr. Stanwix a welcome addition to their plastic surgery experience.
"We now offer the absolute state of the art in cosmetic and reconstructive surgery. Traditionally, microvascular surgery is performed in the university setting. We are the first private practice in Richmond and in central Virginia to offer DIEP flap breast reconstruction. This will elevate breast cancer reconstruction to the highest level possible. DIEP flap reconstruction is the 'gold standard' for breast reconstruction. We are pleased to offer DIEP flap breast reconstruction to our community of women in Richmond. Our patients, friends, neighbors, and colleagues who must endure breast cancer treatment deserve the best possible reconstructive procedure we can offer."
About Neil J. Zemmel, MD
A graduate of the University of Virginia Medical School, Dr. Neil Zemmel completed a combined plastic surgery training program at the Virginia Commonwealth University Medical Center, where he served as Chief Resident of Plastic Surgery during his final year of training. He is board-certified by the American Board of Plastic Surgery and a member of the American Society of Plastic Surgeons and the American Society for Aesthetic Plastic Surgery. Dr. Zemmel also participates in medical missions to Guatemala with the Operation Kids surgical mission group to perform cleft lip and palate repair as well as burn reconstructions to children in impoverished communities.
About Matthew G. Stanwix, MD
Dr. Matthew Stanwix completed his surgical residency at the Johns Hopkins Hospital in the Department of Plastic and Reconstructive Surgery. He has performed extensive research in facial surgery and transplantation and published over twelve articles in internationally-recognized, peer-reviewed journals, in addition to authoring four book chapters and numerous presentations at national meetings. Dr. Stanwix volunteers his time and skills on medical mission trips to help children who were born with facial deformities through the Vietnam-Changing Children's Lives program.
Richmond Aesthetic Surgery is currently located at 11934 W Broad Strest, Suite 200 in Richmond, VA 23233 and can be reached at (804) 424-2000. The practice can also be contacted online via the website richmondplasticsurgery.com or facebook.com/drzemmel.
Previous Post
Next Post