Major Weight Loss Surgery Performed for "The Doctors"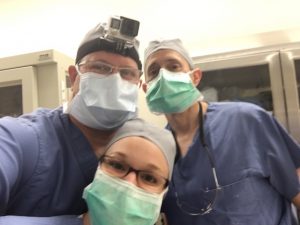 As mentioned in a previous blog post, our plastic surgeon, Dr. Neil Zemmel, was featured on the Emmy Award-winning talk show "The Doctors" earlier this month to present a major weight loss surgery patient case. He volunteered to perform body contouring for Austin, a young man who had lost half his body weight, to address his resulting excess skin. After assessing Austin's physical needs, Dr. Zemmel determined he required a belt lipectomy, also known as a body lift, to reveal the much healthier, toned body hiding underneath.
The procedure was just recently performed, and Dr. Zemmel successfully removed the excess skin around his abdomen, trunk, and legs. Austin is now recovering from his body lift, and our team is excited to share more details of his progress in the future. His follow-up segment on The Doctors will be filmed and featured in September, so make sure to follow us on Facebook to stay updated on Austin's journey!