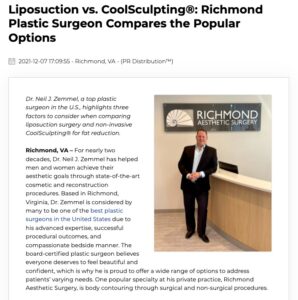 Dr. Neil J. Zemmel, a top plastic surgeon in the U.S., highlights three factors to consider when comparing liposuction surgery and non-invasive CoolSculpting® for fat reduction.
Richmond, VA – For nearly two decades, Dr. Neil J. Zemmel has helped men and women achieve their aesthetic goals through state-of-the-art cosmetic and reconstruction procedures. Based in Richmond, Virginia, Dr. Zemmel is considered by many to be one of the best plastic surgeons in the United States due to his advanced expertise, successful procedural outcomes, and compassionate bedside manner. Our plastic surgeon believes everyone deserves to feel beautiful and confident, which is why he is proud to offer a wide range of options to address patients' varying needs. One popular specialty at his private practice, Richmond Aesthetic Surgery, is body contouring through surgical and non-surgical procedures.
From popular surgeries like liposuction to newer, non-invasive options like CoolSculpting®, Dr. Zemmel strives to help every patient find the most beneficial procedure for their needs and preferences. When it comes to selecting the ideal body sculpting option, Dr. Zemmel explains there are certain factors to consider. To provide a more in-depth look at candidacy for liposuction versus CoolSculpting, in particular, the Richmond plastic surgeon shares three key comparisons between the two.
Precise Body Contouring vs. Localized Fat Reduction
When considering who is a good candidate for liposuction and CoolSculpting, Dr. Zemmel says patients will present with different aesthetic goals and physical needs. He asserts that liposuction surgery is recommended for those wanting more substantial fat reduction in trouble spots. The procedure involves the use of cannulas to extract fatty tissue, with the ability to achieve more precise sculpting. CoolSculpting, on the other hand, he says can be a great option for those wanting more subtle contouring results in a general area, as it uses a process known as cryolipolysis to freeze and break down fat cells, which are gradually processed out of the body.
Long-Term Investment vs. Smaller Up-Front Cost
As with most surgeries, Dr. Zemmel explains that liposuction typically has a higher cost, due to being a more involved procedure that requires added safety precautions, anesthesia, and experienced staff. He describes liposuction as more of an investment, as results can be more significant and are long-lasting. For those interested in non-surgical fat reduction, CoolSculpting tends to be a more affordable option, with patients able to opt for one or multiple treatment sessions to control their total cost.
Longer Recovery vs. Lunchtime Procedure
One factor that Dr. Zemmel recognizes is at the front of many patients' minds is the recovery process. Following liposuction, he says patients typically need one week to rest and heal before they can return to work and other non-strenuous activities. Some discomfort, swelling, and bruising is normal during this time but should gradually fade. For those wanting to get back to their routine immediately, Dr. Zemmel highlights the little to no downtime needed after CoolSculpting. This non-surgical alternative is preferred by some patients due to causing minimal interruption to their schedule.
While there are many options available for body contouring, Dr. Zemmel has found liposuction and CoolSculpting to be some of the most beneficial for those with localized areas of excess fat. He encourages anyone wanting to achieve a smoother, more toned-looking body shape to consult with a plastic surgeon to learn which option may be most appropriate for their needs.
About Neil J. Zemmel, MD, FACS
Dr. Zemmel is certified by the American Board of Plastic Surgery and has been voted several years in a row for being a "Best Plastic Surgeon" and "Top Doctor." He earned his medical degree from the University of Virginia School of Medicine and completed a competitive residency training at the Virginia Commonwealth University Medical Center. At Richmond Aesthetic Surgery, he and Dr. Karishma Reddy provide a comprehensive array of cosmetic and reconstructive procedures, from breast augmentation and liposuction to tummy tuck and mommy makeover surgery. Dr. Zemmel also leads the popular Dermlounge medical spa located within Richmond Aesthetic Surgery. He is a Diplomate of the American Board of Plastic Surgery, Fellow of the American College of Surgeons, and member of multiple organizations, including The Aesthetic Society. Dr. Zemmel is available for interview upon request.
For more information about Dr. Zemmel and Richmond Aesthetic Surgery, visit richmondplasticsurgery.com.
Contact:
Richmond Aesthetic Surgery
11934 W Broad Street, Suite 200
Richmond, VA 23233
(804) 423-2100
Rosemont Media
(800) 491-8623
www.rosemontmedia.com
Previous Post
Next Post