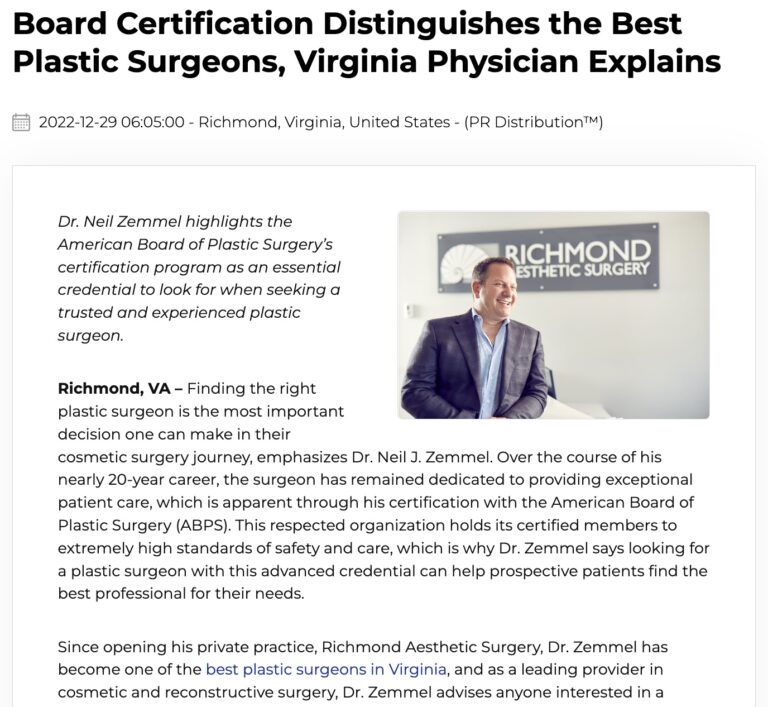 Dr. Neil Zemmel highlights the American Board of Plastic Surgery's certification program as an essential credential to look for when seeking a trusted and experienced plastic surgeon.
Richmond, VA – Finding the right plastic surgeon is the most important decision one can make in their cosmetic surgery journey, emphasizes Dr. Neil J. Zemmel. Over the course of his nearly 20-year career, the surgeon has remained dedicated to providing exceptional patient care, which is apparent through his certification with the American Board of Plastic Surgery (ABPS). This respected organization holds its certified members to extremely high standards of safety and care, which is why Dr. Zemmel says looking for a plastic surgeon with this advanced credential can help prospective patients find the best professional for their needs.
Since opening his private practice, Richmond Aesthetic Surgery, Dr. Zemmel has become one of the best plastic surgeons in Virginia, and as a leading provider in cosmetic and reconstructive surgery, Dr. Zemmel advises anyone interested in a procedure to seek a physician who is board certified by the ABPS. By doing so, he says patients can trust that their surgeon has completed the proper training and testing requirements to produce reliably safe and effective care.
The ABPS is recognized by the American Board of Medical Specialties (ABMS), which approves medical specialty boards as they implement standards for physician certification. When a plastic surgeon is certified by the ABPS, they have completed extensive requirements that are not easily achieved, including:
Training in general surgery followed by a fellowship in a certified plastic surgery residency program, which is a minimum of five years
Passing a rigorous written and two-day oral examination process
Approval of plastic surgery cases that were submitted
Careful evaluation of their knowledge and approach to surgical challenges
Board certifications issued since 1995 are valid for 10 years, at which point the ABPS requires recertification. Dr. Zemmel explains that this ensures a plastic surgeon continues to uphold the high standards established by the ABPS.
As the "gold standard" in plastic surgeon certification, Dr. Zemmel says the ABPS offers an elite credential that can make finding the best plastic surgeon easier — whether a patient is undergoing tummy tuck surgery, liposuction, breast reconstruction, a facelift, or another procedure. As they do their research, Dr. Zemmel cautions prospective patients to be aware that there is no certifying board recognized by the ABMS with "cosmetic surgery" in their title. While some professionals may be certified by multiple organizations, Dr. Zemmel advises to look for the ABPS credential to determine the prestige of a plastic surgeon.
About Neil J. Zemmel, MD, FACS
Dr. Zemmel is a board-certified plastic surgeon in Richmond who offers a comprehensive array of plastic surgery procedures for the face, breast, and body. He is also the Medical Director of the Dermlounge medical spa, where patients can choose from a wide selection of non-surgical aesthetic rejuvenation options. Dr. Zemmel completed medical school from the University of Virginia School of Medicine, and trained in a highly sought-after Plastic and Reconstructive Surgery program at the Virginia Commonwealth University Medical Center. He stays active in several medical associations, including being a Fellow of the American College of Surgeons and a member of The Aesthetic Society and the American Society of Plastic Surgeons. Zemmel is available for interview upon request.
For more information about Dr. Zemmel and Richmond Aesthetic Surgery, visit richmondplasticsurgery.com.
Contact:
Richmond Aesthetic Surgery
11934 W Broad Street, Suite 200
Richmond, VA 23233
(804) 423-2100
Rosemont Media
(800) 491-8623
www.rosemontmedia.com
Previous Post
Next Post