SculpSure®

SculpSure® Overview
One of the latest FDA-approved treatments to arrive at our Richmond plastic surgery office is designed to help patients reduce fat and contour the body without the need for major surgery. SculpSure® is a non-surgical treatment that can target stubborn fat pockets that have been resistant to a healthy diet and exercise regimen. The innovative SculpSure® device uses controlled light-based technology to sculpt and define areas of the body, such as the abdomen, flanks, back, and the inner and outer thighs.
The Science Behind SculpSure®
SculpSure® uses laser energy to target fat cells under the skin's surface on virtually any area of the body. First, the fat cells must be broken down. This is done by raising the temperature under the skin between 107 and 116 degrees Fahrenheit, ensuring that the structural integrity of the excess fat cells is damaged. Over time, the disrupted fat cells are metabolized and eliminated by the lymphatic system. After being eliminated, those fat cells cannot regenerate. Most commonly, the targeted fat cells will be destroyed within six weeks, and within 12 weeks results should be apparent.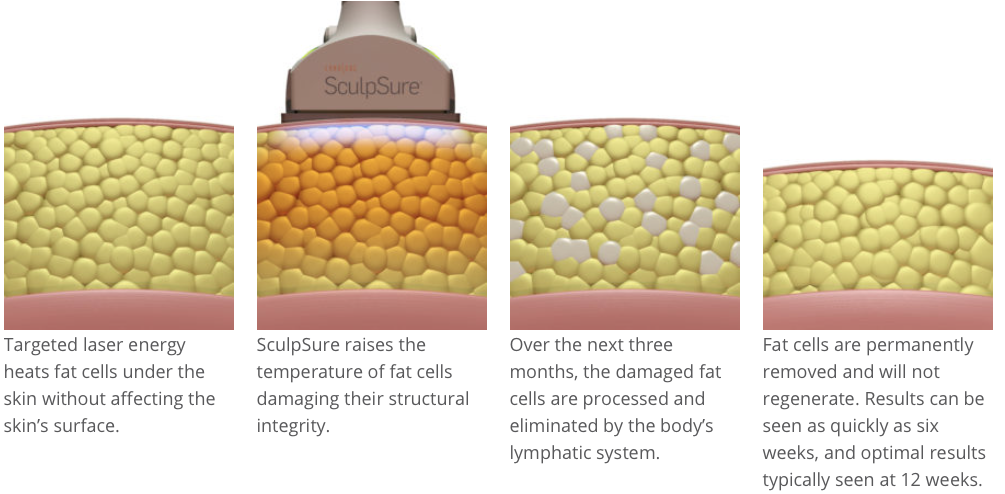 Back to Top
SculpSure® Candidates
The most important requirement for a SculpSure® treatment is that patients are near their ideal weight, but are experiencing isolated areas of stubborn fat that do not respond to diet and exercise. These areas of excess fat are commonly found in the:
Love handles (flanks)
Abdomen
Thighs
Stomach
Hips
Back
Patients who are in reasonably good overall health are often candidates for this treatment. In your initial consultation, we will talk with you about your needs and goals and answer any questions you may have. If it is determined that SculpSure® is not the best option to help you achieve your goals, we can work with you to find an alternative treatment.
Back to Top
The SculpSure® Treatment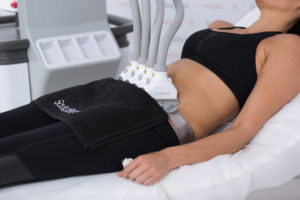 At your appointment, our skilled medical staff will take you to a treatment room. Depending on which area of the body you are treating, you might be asked to sit or lie down in a comfortable position. This treatment is non-invasive, and therefore requires no anesthesia or recovery time.
First, we will place a band around the treatment area. This band holds four spaces for applicators, or paddles, that can be customized into a variety of configurations. We will then insert the SculpSure® paddles and turn on the machine to begin your non-invasive body contouring treatment. Patients may feel a gentle warming sensation throughout their 25 minute appointment. However, continuous contact cooling is provided by the applicators to keep the skin safe and the treatment comfortable. At the end, patients are typically able to resume their daily activities with little to no downtime.
We often treat patients who are on a lunch break from work, as this appointment usually lasts only about 25 minutes.
To target more than one area of the body, patients can have multiple treatments in one day, or return to the office at a later time. In 6 to 12 weeks following the treatment, patients should begin to see their fat reduction results.
*Individual Results May Vary
SculpSure® Frequently Asked Questions (FAQs)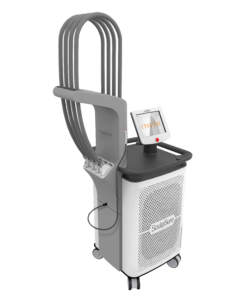 What is SculpSure®?
SculpSure® is a non-invasive fat reduction and body contouring treatment that is designed to cause the expulsion of excess fat cells from the body via laser technology.
Is SculpSure® treatment right for me?
During a consultation at Richmond Aesthetic Surgery, a member of our medical staff will determine your candidacy for SculpSure® treatment. Usually, patients who undergo this treatment are already at or near their optimal weight; however, they are looking for solutions to address stubborn fat pockets located on the thighs, hips, back, abdomen, stomach, and/or flanks.
What if I am not a SculpSure® candidate?
If we determine that a treatment with SculpSure® would not be beneficial to you, we can discuss potential alternative treatments that can meet your needs. In some cases, liposuction may be a better option, particularly for areas that are affected by more significant amounts of excess fat.
How long is the SculpSure® treatment?
SculpSure® treatment is about 25 minutes in length for each area of the body that is being targeted.
How many SculpSure® treatment sessions will I need?
The number of treatment sessions needed will vary greatly from person to person. This can be determined by our medical staff during the initial consultation and will ultimately depend on the amount of excess fat in the target area, along with other factors. Once you have been evaluated, we can talk with you about how many treatment sessions may be necessary to achieve the results you desire.
What results from SculpSure® can I expect?
After the targeted fat cells are damaged, destroyed, and filtered from the body, they will not regenerate. This process can take about 6 to 12 weeks. During this time, you should begin to notice signs of improvement in the treatment area. Final results will vary based on how many treatment sessions you completed and how responsive the fat pockets were to the light-based technology.
Back to Top
SculpSure® Patient Testimonials
Contact Richmond Aesthetic Surgery
To learn more about SculpSure® or to schedule an appointment, please contact our office today.
Back to Top