Vaginal Rejuvenation
What Is Vaginal Rejuvenation?
Vaginal rejuvenation procedures address a variety of intimate cosmetic concerns and medical conditions that commonly affect women. These issues can result from factors like childbirth, aging, weight change, menopause, and genetics. As changes to the pubic and vaginal areas occur, women can begin to suffer from chronic discomfort and functional and aesthetic issues. This includes symptoms such as dryness, painful sex, urinary incontinence, decreased sensation with intimacy, vaginal laxity and enlarged redundant vaginal tissue. To help women feel more comfortable and restore their self-confidence, Dr. Nathan Guerette, in partnership with  Dr. Neil Zemmel, offers surgical and non-surgical vaginal rejuvenation procedures, including labiaplasty, clitoral hood reduction, vaginal tightening, diVa® laser vaginal therapy, and more.
Surgical Options: Labiaplasty and Vaginal Rejuvenation Procedures
Vaginal rejuvenation is customized to the unique needs of each individual. During the initial consultation, Dr. Guerette will listen to your concerns, go over your medical history, and perform a specialized physical exam. Based on this information, he may perform additional diagnostic tests and will create a treatment plan specifically designed to address your needs. To help you understand what to expect, Dr. Guerette will educate you about the benefits as well as possible side effects associated with your procedure.
Dr. Guerette is a board-certified urogynecologist and pelvic reconstructive surgeon. He is the Director and CEO of The Female Pelvic Medicine Institute of Virginia and the Intimate Aesthetic Institute of Virginia. Dr. Guerette specializes in cosmetic and reconstructive surgery of the pelvis, including vaginal surgery, robotic surgery, and non-surgical treatments. He is internationally recognized for his expertise in pelvic surgeries, performing over 600 reconstructive procedures each year.
As Drs. Zemmel and Guerette work closely together, you may choose to undergo multiple procedures, combining vaginal rejuvenation with options like liposuction or tummy tuck surgery, such as in the comprehensive mommy makeover. They will help you understand what you can realistically achieve in your final results.
Although the specifics of each procedure will vary, labiaplasty, vaginoplasty, and other surgical vaginal rejuvenation procedures are typically performed under local or light general anesthesia. Dr. Guerette utilizes meticulous surgical technique, which allows him to produce the best possible customized outcome with minimal complications and rapid recovery. In addition, the incisions are placed in natural creases and skin lines to minimize the appearance of any post-operative scarring. To learn more about your specific vaginal rejuvenation options, read more about the procedures below.
Labiaplasty (Labia Minora Reduction)
Labiaplasty is the most commonly performed procedure for vaginal rejuvenation. This surgery is intended to reduce the labia minora as well as improve the balance between the labia majora and labia minora to improve appearance and decrease chronic irritation. Dr. Guerette uses a customized technique to reconstruct the enlarged labia minora (inner lips) so they are even with the labia majora (outer lips) and meets each patient's expectations. By using specialized contouring and suturing techniques that require no suture removal, patients achieve better symmetry, improve function and comfort, and gain higher confidence with intimacy.
Labia Majora Reduction (Labia Majoraplasty)
Labia majoraplasty addresses the common concern of a redundant or overly large labia majora (outer vaginal lips). This unwanted bulge can become irritated and noticeable when wearing tight-fitting clothing such as yoga pants or bathing suits, as it can accentuate the curvature of the external genitalia. Dr. Guerette uses specialized techniques to reduce the size of the labia majora and tighten the skin with virtually invisible incisions.
Vaginal Tightening (Vaginoplasty) and Perineoplasty
Damage to the vagina and perineum is a common occurrence during childbirth, and recovery from that trauma is often incomplete. These issues tend to worsen over time, leading to laxity, enlargement of the vaginal opening, loss of sensation with intimacy, and other functional and aesthetic issues. Vaginal tightening (vaginoplasty) is achieved through reconstructing the skin and connective tissue in the vagina and the muscles surrounding the vagina. Perineoplasty is often performed during the same operation to reconstruct the area between the vaginal opening and the anus. This area is particularly susceptible to damage during childbirth, as it can tear from force or from an episiotomy, and is frequently not repaired adequately at the time of delivery. Vaginoplasty and perineoplasty can improve laxity and function with better stimulation and satisfaction during intimacy for both the woman and her partner.
Clitoral Hood Reduction
The clitoral hood is the tissue in front of the labia minora that covers the clitoris. The clitoral hood also often has excess tissue when the labia are enlarged or can occur as an isolated issue. Reduction is usually performed during a labiaplasty procedure to improve appearance, as reduction of the labia minora can sometimes make the clitoral hood appear more prominent if not addressed. During clitoral hood reduction, excess skin hanging over the clitoris is reconstructed. This creates an overall more balanced aesthetic and often improves sensation with intimacy as the clitoris is more exposed.
Hymen Repair Surgery (Hymenoplasty)
Hymenoplasty is a reconstructive procedure that restores an absent or ruptured hymen. This membrane covers the vaginal opening prior to becoming sexually active and can stretch or tear due to sexual intercourse or, in some cases, tampon use or exercise. If a women desires, through surgical hymen repair, this tissue can be restored to its natural state prior to being broken. Dr. Guerette uses a unique technique to minimize pain and recovery and give a natural result.
Liposuction of the Pubic Mound and Labia Majora
Liposuction can be performed to reduce unwanted fullness in the female genitalia caused by excess fatty tissue. The procedure is typically used to decrease the prominence of the pubic mound (located above the pubic bone) or the labia majora. This can often be performed using Sciton®'s ProLipo PLUS™ technology—a laser device that offers immediate improvement with minimal downtown.
Labial Puff
The labial puff procedure is designed to rejuvenate the labia majora by restoring lost volume and addressing wrinkles. This natural fullness gradually depletes with age, often after childbirth and menopause or with substantial weight loss. To address volume loss and loose skin, injections are performed using a patient's own fatty tissue (acquired through fat grafting) or dermal fillers (such as JUVÉDERM®). Through this process, patients can achieve a more youthful appearance.
Vaginal Rejuvenation and Labiaplasty Recovery
Most patients can fully resume their daily activities within one to two weeks of their vaginal rejuvenation surgery. However, you should avoid sexual intercourse for about six weeks after surgery. Any discomfort you experience throughout this time can be alleviated with oral pain medication.
The details of a patient's recovery after labiaplasty or another vaginal rejuvenation procedure will vary based on the specifics of their treatment plan. Our staff will go over what you can expect after treatment and provide you with post-operative instructions to help guide you with proper incision care.
Non-surgical Vaginal Rejuvenation: diVa® Laser Vaginal Therapy
The Sciton JOULE™ laser with diVa® Laser Vaginal Therapy is the most complete, most sophisticated, and highest quality suite of non-surgical procedures designed to improve women's internal vaginal tissue and external vagina (vulva) via its unique Hybrid Fractional Laser Technology.
diVa (Internal Laser Therapy)
diVa vaginal therapy is accomplished by the gentle insertion of a single-use Strengthened Quartz Dilator. This dilator is new for each treatment and remains stationary while the automated handheld device rotates inside it through the vaginal canal, sending pulses of laser energy into the soft tissue. This remodels the tissue in the vaginal wall, signaling the body's natural healing process, which helps rejuvenate the tissue and decrease pain, laxity, and dryness. Treatment with the diVa technology takes about three to five minutes to complete. Patients typically need three treatments to achieve optimal results. Though its gentleness means no general anesthesia is necessary, the treatment area will be numbed using a vaginal topical anesthetic to reduce discomfort during the procedure. Unlike some procedures, the non-invasive nature of diVa laser vaginal therapy requires no downtime and allows women to return to their normal level of activity the very same day. diVa is changing women's lives—let it help yours.
diVa Tyte™ (Non-surgical Labia Majoraplasty)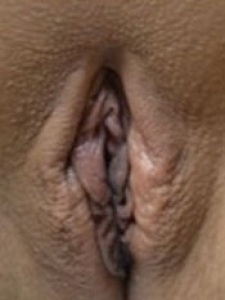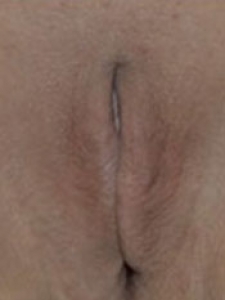 BeforeAfter*
View Gallery
diVaTyte addresses external vaginal skin quality concerns. Vaginal childbirth excessively stretches the muscles and skin of the vagina. The body's natural healing process repairs much of the damage, but tissue may not return to its previous state, especially after multiple pregnancies. Eventually, many women feel their labial skin has lost some of its youthfulness.  The non-ablative diVaTyte treatment uses broadband wavelengths of light to penetrate deep into the outer vaginal tissue. A powerful and comfortable contact cooling mechanism effectively shields the top layer of skin from being damaged while simultaneously permitting safe energy to heat the deeper layers of tissue that contain collagen and elastin. The resulting rise in temperature naturally triggers the body's response to repair and restore the tissue leading to healthier, tighter, more sensitive, youthful tissue.  
Complement diVa Laser Vaginal Therapy with diVaTyte to optimize both internal and external vaginal tissues and provide a total women's health solution from one device.
"The diVa and diVaTyte treatments by Sciton can dramatically improve vaginal and vulvar health and appearance with a quick office procedure that has no preparation and minimal recovery."
-Nathan Guerette, MD, FPMRS, FACOG
diVa Labiaplasty (Non-surgical Labia Minoraplasty)
Utilizing the Sciton ProFractional™ laser, the skin and connective tissue of the labia minora can be tightened and reduced in size. This treatment is performed in the office with only local anesthesia and takes only about 5 minutes with minimal to no downtime. Typically 3-5 treatments are required to achieve optimal results.  
diVa Laser Bikini Hair Removal (Forever Bare BBL™)
Forever Bare BBL from Sciton is an advanced hair removal technology that provides comfortable and fast treatment with even hair removal results. Unlike other devices, the Forever Bare BBL emits energy through multiple pulses, rather than concentrating it in one burst. This more gradually heats hair follicles and, in addition to its continuous cooling feature, helps protect the skin. Hair removal with the Forever Bare BBL has proven effective on all skin types up to V. Many patients opt to receive hair removal as a complement to other vaginal rejuvenation treatments.
To learn if vaginal rejuvenation is right for you, please contact The Intimate Aesthetic Institute at Richmond Aesthetic Surgery to schedule a consultation with Dr. Guerette.