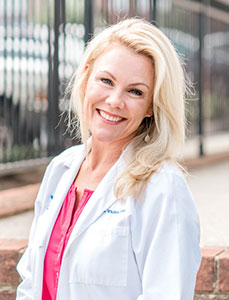 Alicia Walker, FNP-BC, joined Dr. Zemmel and the team at Richmond Aesthetic Surgery in Summer 2020. Alicia is Dr. Zemmel's extra set of hands in the operating room, serving as his assistant in all surgical cases. In addition, she sees patients in our Short Pump office, while also performing injections, including BOTOX® Cosmetic and dermal fillers.
Alicia is a board-certified Family Nurse Practitioner boasting over 18 years of advanced practice experience. She spent the first three years of her career with the Cardiovascular Center of Hampton Roads in Newport News, VA, after which she returned to her hometown of Richmond to further her expertise in orthopedics and spine. In total, Alicia has over 15 years of orthopedic and spine experience, ranging from acute injuries to chronic conditions. She has advanced surgical training in sports medicine and joint replacement in addition to over five years of spine surgery expertise.
Alicia earned her Bachelor of Nursing at the Virginia Commonwealth University after she completed her RN diploma from (formally known as) Richmond Memorial School of Nursing. She went on to earn her Master of Science in Nursing from the highly-regarded University of Virginia School of Nursing.
Alicia is a native to Richmond. Her spare time is devoted to her beautiful family – her husband (Drew), daughters (Anna & Reese), son (Xander), and her chocolate Australian Labradoodle (Archie). Beyond her family, she is a strong supporter and volunteer of Comfort Zone Camp.
Alicia is an avid proponent of healthy living through her love of exercise, nutrition, and self-care. She relies on her many years of technical experience coupled with her unparalleled passion of bringing happiness to her patients. She strives to create a truly inviting care experience of quality, warmth, and excellence.