Rhinoplasty
Rhinoplasty Overview
Rhinoplasty, or "nose reshaping surgery," or "nose job," is a surgery that is performed on the nose to improve its appearance and configuration, providing definitive aesthetic harmony and shape. Surgery of the nose may not only improve the proportion and look of your nose, but may be able to correct structural abnormalities that create breathing difficulties.
Rhinoplasty surgery is performed to accomplish the following look of your nose: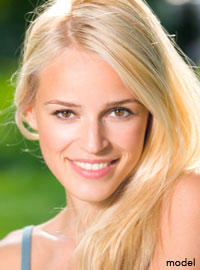 Eliminating the "hump"
Changing the shape of the nostrils
Altering the shape of the nasal tip
Changing the size or width of the nose
Fixing a crooked or deviated nose
Augmenting the top of the nose
Correcting a depression in the top of the nose
Increasing the projection of the nasal tip
It can also help with the function of your breathing:
Straightening a crooked septum (the middle part)
Increasing the internal nasal airway passage
Improving the nostrils to allow more air
Am I a Candidate for Rhinoplasty Surgery?
Rhinoplasty surgery is reserved for individuals who have specific issues with the shape or configuration of their nose. Individuals must be physically healthy and over 13 years old. It is best that you have realistic goals in mind for the improvement of your appearance. Importantly, you should have the procedure done for yourself, not to fulfill the desire of someone else or to try to fit an unrealistic ideal image.
Before you decide to have surgery, think carefully about your expectations and discuss them with your surgeon at Richmond Aesthetic Surgery.
Your Initial Consultation
In your initial consultation, Dr. Zemmel or Dr. Dassoulas will evaluate your face, including the skin and underlying bone/cartilage, the shape, and how you breath. They will discuss your goals for the surgery and whether you are a candidate for a rhinoplasty.
Your surgeon will check for medical conditions that could cause problems during or after surgery, such as uncontrolled high blood pressure, blood clotting problems, or the tendency to form excessive scars. They will also ask you about previous nasal injury or any surgery you may have had in this area. It is important to be candid and upfront about previous surgeries and your expectations. If you smoke or take any medications – particularly aspirin and drugs affecting clotting – it is important to tell your doctor during your consultation.
When you have made the decision to undergo rhinoplasty surgery, your surgeon will provide a comprehensive overview of his technique, including the anesthesia and surgical facility that will be used as well as the risks and costs associated with the procedure.
Do not hesitate to ask any questions you may have, especially those regarding your expectations and concerns about the results.
Getting Ready for Surgery
Our plastic surgeons at Richmond Aesthetic Surgery will give you specific instructions on how to prepare for surgery, including guidelines on eating and drinking, smoking, and taking or avoiding certain vitamins and medications. Following these instructions will help your surgery go more smoothly.
You should arrange for someone to drive you home after your surgery and to help you out during that night.
The Location of Your Surgery
Our surgeons perform rhinoplasty surgery at St. Francis Hospital's Ambulatory Surgical Center. Rhinoplasties are done on an outpatient basis.
Our surgeons always call each patient personally at night to ensure their safety and see how they are feeling.
Anesthesia
Our board-certified plastic surgeon at Richmond Aesthetic Surgery performs procedures in the safest method for patients. They perform rhinoplasty surgery under general anesthesia to minimize discomfort and provide for the safest and best surgical environment.
The Surgery
A rhinoplasty takes about two to three hours for our surgeons to perform.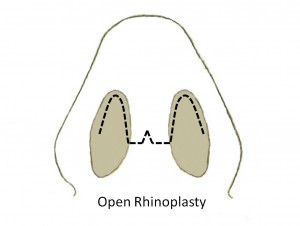 There are two major types of rhinoplasty surgery: open or closed. Most rhinoplasty procedures performed at Richmond Aesthetic Surgery are done through an open approach to fully visualize your nose and optimize your result. Both open and closed rhinoplasty surgeries involve incisions on the inside of your nostril. However, the open approach makes an inconspicuous scar across the small vertical part of the nose (columella). By doing so, your surgeon can fully visualize all structures of the nose.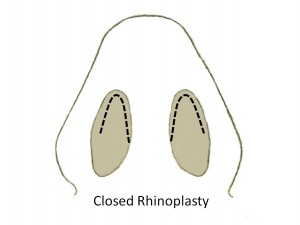 The procedure then includes multiple steps to reshape and configure your nose to the plan you discussed beforehand. Different areas will be reshaped, some reduced, and others augmented. Your surgeon will tell you the exact plan prior to surgery during your consultation.
Frequently, additional cartilage is needed to help configure your new and improved nose. Usually this is taken from the middle part inside your nose (septum). However, during a revisional rhinoplasty, or following previous nasal surgery, this cartilage may be gone or not useable. Therefore, cartilage may have to be taken from inside the outer aspect of the ear. The cartilage here is not needed and no scar will be visible during the removal of it. Although it is rare to need during a first rhinoplasty, it is important to know that every rhinoplasty performed may need this ear cartilage in order to maximize results. During revisional or complex rhinoplasty cases, the use of this ear cartilage is more likely. Also, if this cartilage is insufficient or not useable, your surgeon may need to take some cartilage from your rib. They perform this through a small incision just underneath the breast fold.
Part of rhinoplasty surgery may include readjusting and placing the bony part of the nose back into a straight and more normal direction or width. This is the part that may lead to some swelling and bruising around the eyes. This is typically done through the same incision as above, but may require very tiny 1-2mm incisions at the edge of the nose.
After the nose is reshaped, configured to new dimensions, and the airway opened, 5 to 6 tiny sutures are placed in the skin. Also, dissolvable sutures are placed inside the nostril where the incision was performed there.
The dressings on the nose vary depending on the extent of surgery performed. A light dressing/tape to protect and secure the skin and incisions is then placed carefully over the nose. If bony work was performed, then an external nasal cast is placed to protect the healing bone segments. Also, if extensive bony septal surgery was required, there may be a nasal splint placed inside the nostrils on each side to compress and help the area heal. The overwhelming majority of rhinoplasty patients do not need these splints or packing; it is reserved for those that needed extensive bony or septal surgery.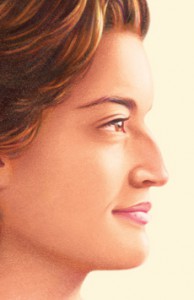 Post-Operative Course
There is not usually much discomfort after surgery; if there is, it can be lessened with the pain medication prescribed. Furthermore, if bony work has to be performed, the pain may be more noticeable. Some slight numbness of nasal tip is normal and usually disappears in a few months after surgery.
After surgery it is important to keep your head elevated. You will need to sleep sitting up in a chair or with multiple pillows for the first 3 days. Applying ice to the nose during this time will also be required to alleviate some of the pain and swelling. If your surgeon places plastic splints in your nose from septal surgery, you will be placed on antibiotics for the duration that they are present.
You may shower the day after surgery; however it is important to keep your dressings dry. Your nostrils may be clotted with some occasional blood, or even have some minimal bloody discharge. Please do not blow your nose; rather you should wash your nostrils with a saline nasal spray.
You will be seen in the office several days later to remove your dressing, any nasal splint if applicable, and the fine sutures. After the removal of the dressing you will be able to see your new and improved nose! Keep in mind, however, that there is still a lot of swelling in the nose and the finally result will not be fully seen for six to twelve months.
Surgical Complications
When a Rhinoplasty is performed by a qualified plastic surgeon, complications are infrequent and usually minor.
Complications that can occur include:
A hematoma (a collection of blood under the skin) infection
Problems with skin loss and wound healing issues
Nose asymmetry, contour irregularities, septal injury, and numbness
Reactions to the anesthesia
Smelling difficulties and the need for revisional surgery
The practice of medicine and surgery is not an exact science. Although good results are expected, there is no assurance that things will heal as expected. In some situations, it may not be possible to achieve optimal results with a single procedure. Another minor or touch-up surgery may be necessary to reach the intended aesthetic goal.
Prior to surgery, your surgeon will provide instructions for how to help reduce the risks of complications both before and after your procedure.
Feeling Normal Again
Following rhinoplasty, downtime and activity restrictions are relatively minimal; however, you can expect to feel a bit tired on the night of your surgery and into the next day. After about one week, you will most likely feel close, if not completely, back to normal. Although you may feel well that first week, you will still have an external dressing on your nose, which will be visible when you go out in public. Your surgeon will give more specific guidelines for gradually resuming your normal activities.
Your New Appearance
You will be excited with the transition and new shape of your nose. After removing the dressing on the first office visit, your new look will be apparent.
Most of the swelling decreases from the nose in the first 6 weeks to 3 months; however, a small percentage of it may take a full year. Also, the cartilage in your nose that was changed or added continues to mold and change over time. Therefore, the very finished product of your rhinoplasty is not completely visualized and final for almost a year.
Contact Richmond Aesthetic Surgery
To learn more about rhinoplasty and nose surgery, or to schedule a consultation, please contact Richmond Aesthetic Surgery today.