About Nathan L. Guerette, MD, FPMRS, FACOG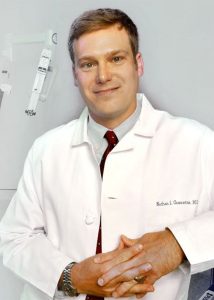 Dr. Nathan Guerette is a board-certified urogynecologist, pelvic reconstructive surgeon, and family medicine physician. He specializes in minimally invasive cosmetic and reconstructive pelvic surgery, such as advanced vaginal and robotic techniques, as well as non-surgical treatments. Dr. Guerette performs more than 600 reconstructive pelvic surgeries per year—some of these procedures he has completed the most of anyone in the world.
In addition to collaborating with our plastic surgeon, Dr. Neil J. Zemmel, at Richmond Aesthetic Surgery, Dr. Guerette is the Director and CEO of both The Female Pelvic Medicine Institute of Virginia and the Intimate Aesthetic Institute of Virginia—the latter of which is the most comprehensive center for specialized care in cosmetic pelvic medicine and reconstruction in the region. He is also Associate Clinical Professor in Urogynecology at the Medical College of Virginia, Virginia Commonwealth University; Full Professor at the Riverside Regional Medical Center; and Director of Robotic Surgery at the Johnston Willis Medical Center.
Dr. Guerette completed his fellowship training at the Cleveland Clinic Foundation, during which he focused on Female Pelvic Medicine and Reconstructive Pelvic Surgery. Dr. Guerette is the first urogynecologist in Central Virginia who is both fellowship trained and board certified. He is certified by the Female Pelvic Medicine and Reconstructive Surgery, the American College of Obstetricians and Gynecologists, and the American Academy of Family Practice.
Dr. Guerette has contributed extensive research to the field of urogynecology and pelvic reconstructive surgery. He frequently conducts clinical research for women's healthcare topics, some of which have been at the FDA level. Dr. Guerette has lectured internationally, including being the Keynote Speaker at the UroGynaecological Society of Australasia's 2015 meeting and a Chairman of several meetings focusing on vaginal rejuvenation and reconstruction. He is also a national-level legal consultant in urogynecology and an expert consultant for new technologies by biomedical companies. In fact, Dr. Guerette has several technology patents of his own.
Renowned within the U.S. and globally for his expertise, Dr. Guerette has made appearances on several media sources, including features on NPR, NBC News, PBS, and the Dr. Drew Podcast. With a passion for helping patients find long-term relief for their pelvic concerns, Dr. Guerette takes a personalized approach to patient care, prioritizing compassion and privacy with each of his patients. His dedication to his work has earned him the "Top Doc" honor by Richmond Magazine for the last eight consecutive years. Dr. Guerette has also received the "Best Bedside Manner" award by Our Health Magazine. He takes great pride in knowing his commitment to the field of urogynecology continues to change women's lives for the better.
Professional Associations
In addition to conducting research and presenting on topics of urogynecology and pelvic reconstruction, Dr. Guerette is an active part of the medical community through his participation in several organizations. He is a member of the following associations:
American College of Obstetricians and Gynecologists
American Urogynecologic Society
American Association of Gynecologic Laparoscopists
International Urogynecologic Association
American Society for Laser in Medicine and Surgery
International Continence Society
North American Menopause Society
Richmond Academy of Medicine
Medical Society of Virginia
For more information about Dr. Guerette, or to schedule a consultation to learn how he can help with your cosmetic or reconstructive pelvic needs, please contact us today.