Med Spa at Richmond Aesthetic Surgery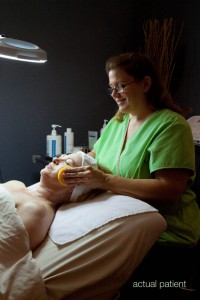 A variety of non-surgical cosmetic enhancement treatments are available to help you replenish your skin, reduce signs of age, and improve common skin conditions to help you maintain a youthful, vibrant appearance. At Richmond Aesthetic Surgery, Dr. Neil J. Zemmel oversees an advanced Med Spa offering a number of effective skin care treatments that can revitalize your skin. Our licensed esthetician, Brenda Clymer, can create a custom-tailored skin care plan designed to help you enhance your appearance with beautiful results. These treatments do not involve surgery or long recovery times and can be wonderful alternatives for patients who may not need invasive treatment to achieve the desired outcome. With facials, microdermabrasion, and other treatment options, you can attain healthier-looking skin with a smoother, more youthful sheen.
At Richmond Aesthetic Surgery's Med Spa, we offer packages for a series of 6 treatments. Purchase 5 and receive a complimentary 6th treatment. Please take a look at some of the many options available, and contact us today for more information.
Med Spa Services
Signature Baseline Treatment
A customized treatment ideal for all skin types and conditions
Micropeel Sensitive Skin
A customized treatment for rosacea and/or sensitive skin types
Micropeel for Acne Skin
A customized treatment for oily and acne-prone conditions
Micropeel Plus (Salicylic)
Micropeel for Anti-Aging
A customized treatment for fine lines and wrinkles
Skin Brightening Peel
A customized treatment ideal for problematic, sun-damaged, and hyperpigmented skin types
Pigment Balancing Peel
A customized treatment for melasma, sun-damaged, hyperpigmented, and acne scarred conditions
Obagi® Blue Peel Radiance
A salicylic acid-based peel for immediate, tighter, smoother, brighter-looking skin
Clinical Acne Treatment
Deep Pore Cleansing Treatment
Reconditioning & Firming Treatment
Microdermabrasion Treatment
A non-invasive exfoliation treatment
(For best results, a series of 3-6 treatments is recommended)
Dermaplane
A manual form of exfoliation, removing the top layer of dead skin cells
Contact the Med Spa at Richmond Aesthetic Surgery
If you would like to learn more about our skin care treatments, or if you would like to schedule a consultation here at our Med Spa for a skin evaluation and customized treatment plan, please contact us today.
Directions to Our Office
Dr. Zemmel is proud to provide his plastic surgery services to patients traveling from nearby cities. For your convenience, we have provided driving directions to our practice from the following locations: